STDFN / Terrorist Financing – Split C5
3 September 2014
Andrew Quitter
No Comment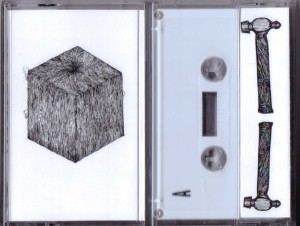 STDFN / Terrorist Financing – Split – C5
Here's an extremely short split by two new bands doing there take on the classic noisecore sound that seems to almost have died out in the past decade with the fall of most of the originators. I know for a lot of us into harsh noise, bands like A.C., 7 Minutes Of Nausea, Sore Throat, Gore Beyond Necropsy, etc. are what started our love for harsh sounds. So it's great to see some newer bands taking up the flag and doing new tapes in the genre. The dub quality on these is great, and the artwork features a few of the fantastic ultra detailed line drawings of Derek Setzer. It loses a few points for leaving the fold lines on though…
STDFN starts things off with an extreme lo-fi saturated sound. These guys are from Buffalo, NY and involved in some other noise projects and bands. The lo-fi sound quality doesn't bother me or really detract from the sound in any way. An over produced or digital recording would definitely detract from it, not give it an edge. The noise parts sound like someone grinding metal on the sidewalk with a few high frequencies here and there, there might be a synth buried way down in the tracks. Contact mics and pedals are definitely involved. The drums are blown out and aren't really blasting like you would expect, but just smashing away randomly and adding to the overwhelming din. The vocals are low-pitched and buried deep enough in the mix to barely be audible. This goes on for two or three extremely short tracks before giving way to an almost power electronics type song, where the drums fade out and the noise and feedback lay the foundation for dual vocals. All in all, after a few listens, I'm just not feeling it. With a tape this short, what's on it should leave you wanting more. With this set of tracks at least, I'm just not there. I feel like if these guys did a straight up harsh noise tape I would probably enjoy it more.
Terrorist Financing have a name surely to get you on a NSA watch list if you type it into google. Hailing from the magic undie covered depths of Utah, they bring about 10 or so tracks on their side of the split (neither band includes a track listing). First off, they have real drums, blasting crazy fast and punk as shit. No double bass here, just old school blasting right up front in the mix. The main other element in the sound seems to be extremely effected vocals. It goes from rumbling lows, to piercing highs and fills the sound spectrum nicely during the quick blasts. There's definitely a digital element to the processing of the vocals, that sounds really foreign and almost glitching at times. The recording quality is still really lo-fi but done in a way that leaves a little room between the noise and the drums, allowing a more traditional noisecore assault over a the totally blown out offerings of STDFN. There might be a little a little bit of a Sissy Spacek influence to these tracks but they sound a lot more straight forward and to the point, without any of the filler or artsy fartsy stuff. All in all, an enjoyable and high-octane way to spend two and a half minutes.
This one's a bit of a mixed bag for me, but for the most part I enjoyed it. I would definitely grab another tape by Terrorist Financing if I saw it, and would like to hear a longer recording by STDFN at some point to see if these set of tracks were just to short to get into what they are trying to do.
| | |
| --- | --- |
| Composition: | |
| Sounds: | |
| Production Quality: | |
| Concept: | |
| Packaging: | |
| Overall Rating: | |