Sutcliffe Jugend – With Extreme Prejudice CD
4 September 2014
xdementia
No Comment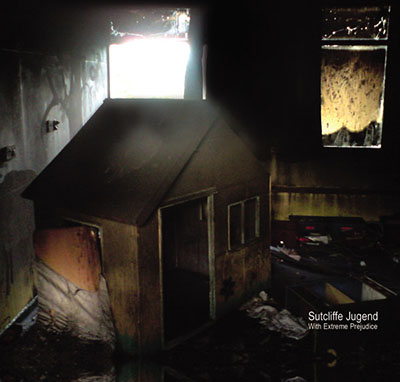 Sutcliffe Jugend – With Extreme Prejudice CD
Who would think that after 32 years Sutcliffe Jugend would not only still be creating music under the moniker but would also still be at the head of the pack where noise/industrial is concerned? How did they escape the tasteless fate of churning out dancy techno anthems in exchange for a fate of complete despair in no-holds-barred abstract extreme music?!
I can't answer these questions but I certainly can enjoy the result. In looking at where With Extreme Prejudice falls on the SJ discography one can see that it comes well after their triumphant breakthrough album This is the Truth in 2007. So hop a few years forward from that – but still a few years back from now – and we have 2011 which is still a year that has yet to be defined in the cannon of noise and power electronics. The sound of With Extreme Prejudice illustrates that succinctly. Sound sources seem to be all over the place – modular synthesizers, distorted harsh noise, wallowing feedback fuckery, digital effects, and amid all of it SJ's token seething vocals.
Although the album kicks off quite frantically with the 11 minute title track, by the time the track has played itself out we have followed a crooked path from insane alternating harsh noise and experimental insanity to towering harmonies bleeding through the chaos. The next handful of tracks – Carnage, Beaten, Empathiser, Bound – all employ a more musical core with alternating tones, spoken – sometimes even sung – vocals, and often times a more rhythmic underpinning.
It's not until Lucky where we are treated to another off kilter drone track with spoken word lyrics of violent fantasies and acts layered over top. The remainder of the tracks alternate from experimental noise attacks to echoing drone passages all joined with the persistent vocals that put SJ's indisputable mark on the material. Some of the vocal effects here are seriously insane with the twisting flangers featured in Death of a Post Christian Humanist to the odd bluesy vocal patterns featured in Empathizer.
It's interesting to go back to this album which I barely even gave a proper listen to before and re-examine it's details. I think the last track Fall of Utopia leaves me in the most inquisitive mood with it's haunting melodies really making me question how I could have overlooked this incredible work so easily before. Highly recommended to any fan of Sutcliffe Jugend and a must have for power electronics, industrial, and noise aficionados.
| | |
| --- | --- |
| Composition: | |
| Sounds: | |
| Production Quality: | |
| Concept: | |
| Packaging: | |
| Overall Rating: | |