Gnaw Their Tongues – All the Dread Magnificence of Perversity CD
7 September 2014
xdementia
No Comment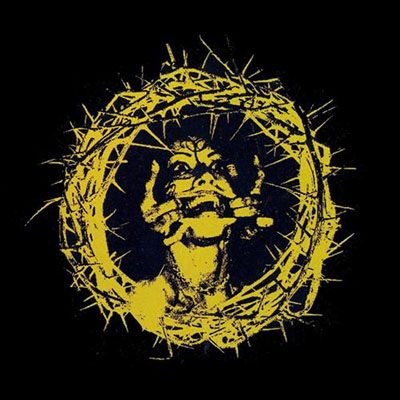 Gnaw Their Tongues – All the Dread Magnificence of Perversity CD
Gnaw Their Tongues is an interesting project who I don't think I've completely wrapped my head around yet. First I know of their split with Corephallism which was released in 2012 and was my first exposure to the project in which they present a heaving industrial track. And then I reviewed their full length L'arrivée de la Terne Mort Triomphante which was released in 2010. Now I find All the Dread Magnificence of Perversity in my review pile which was actually released in 2009 a year before L'arrivée de la Terne Mort Triomphante. So it is that I am approaching this at quite a strange angle; but I digress.
I actually really enjoy this release. It sounds to me like a mixture of orchestral music and black metal with bombastic percussion, creeping strings with doomy guitar riffs and screeching vocals strewn over top with the result of a weird and evil sound that Gnaw Their Tongues is able to achieve. This is completely blackened music, there is no light here, no room for air.
As for the tracks they are all quite consistent in their intensity and delivery. It makes the album a touch of an endurance test but it's certainly worth it for moments like the intro to The Stench of Dead Horses on My Breath and the Vile of Existence on My Hands where the oppressive din lets up to allow for a spoken sample only to again pummel the listener with intensified rhythms.
There's just enough pullback into atmospheric passages to keep the feel alive while exploding into insane dirges of cacophony most of the time. Good use of classical string samples and piano drenched in reverb. Although it's all rather musical in nature it does come off as quite chaotic a lot of the time which is an interesting juxtaposition. Sometimes the classical elements are so inharmonic and angular that they even remind me of free jazz, but with the heavy reverb and distortion it doesn't have the same kind of wanky elements.
This is probably the closest noise will ever come to black metal. Some of the song titles are really great and the packaging is top-notch in it's ultra-heavy digipack case. A really great album, a must have for any fan of the project and definitely something for freaky black metal fans as well as fans of neo-classical.
| | |
| --- | --- |
| Composition: | |
| Sounds: | |
| Production Quality: | |
| Concept: | |
| Packaging: | |
| Overall Rating: | |