Samarkande – Performance X CDr
8 September 2014
xdementia
No Comment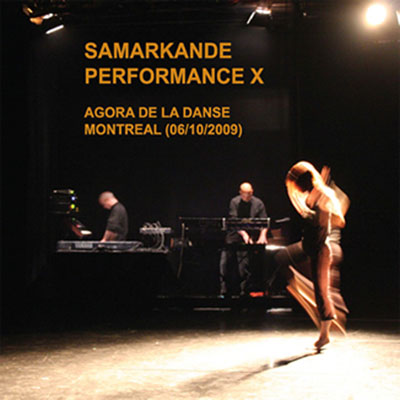 Samarkande – Performance X CDr
Performance X is a live recording by this odd experimental outfit Samarkande who actually sounds quite original. That does however come at a cost; the music is a strange combination of sounds and styles which sometimes works and sometimes doesn't.
It's tough to try and figure out a description of Samarkande's style. Experimental electronic music with touches of drone. Either way the style leans to the more musical side of the genre while using experimental elements to add layers and passages to the tracks.
The atmosphere transitions from one of whimsy to mystery to a more tribal atmosphere at times reminding me of Dead Can Dance but always reverting back to a more experimental feel when given the chance. Probably the most effective part of the album is the explosion into various arpeggios about half way through Catharsis. The album reaches its pinnacle here and it is unmatched throughout the rest of the work.
The thing that Samarkande does well is slowly build a piece over time. Their transitions are smooth and seamless which makes for an intriguing listen and prevents the listener from ever breaking out of the mood. However, the general mood is sometimes the issue here because it's this odd kind of weirdness/whimsy which is something I'm not really that into.
An interesting release that reminds me of such acts as Dead Can Dance, Oblivion Ensemble, with a touch of Contagious Orgasm in there as well. One for the more experimental music fans to check out.
| | |
| --- | --- |
| Composition: | |
| Sounds: | |
| Production Quality: | |
| Concept: | |
| Packaging: | |
| Overall Rating: | |