Freddy Ruppert – Hangs a Shadow C70
12 September 2014
xdementia
No Comment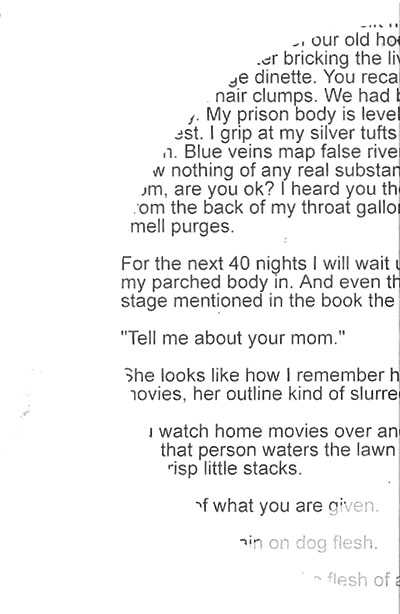 Freddy Ruppert – Hangs a Shadow C70
So it is that this is the first release from NNA Tapes to have graced my review pile! And what a pleasure it is. Freddy Rupert – an artist with whom I am unfamiliar – creates what I would consider just about the most pure version of sound collage or musique concrete I've heard since Pierre Schaeffer.
Throughout this tape it feels like there is very minimal processing and mostly just layering and editing of different sounds. I do hear possibly some tape manipulation here and there but it is even few and far between. The techniques mostly used here are splicing, cutting, panning, and re-ordering as well as mixing and layering. It forms a disjointed ride of confusion and ecstasy, fascination and perplexity.
Most of the sounds here remind me of household sounds recorded very close up to a microphone. Shuffling things, gestural foley sounds, and every once in a while a spoken sample or a more electronic sound source; mostly percussive sounds. The editing is done very well in an electroacoustic style. It's fast and jarring most of the time with several more flowing passages and transitions.
Throughout Hangs a Shadow you will never feel at ease or at rest. Ruppert has crafted a soundscape of anxiety here, an over-sensory experience. Listening to this makes me feel like I have ultra sensitive hearing or something and every miniscule sound that is happening within a mile of me is intensified a thousand times. I appreciate that it's as if instead of looking outward to an otherworldly atmosphere, Ruppert is actually looking inward to those intimate sounds that we seem to take for granted every day. For fans of electroacoustic music, interesting stuff here.
| | |
| --- | --- |
| Composition: | |
| Sounds: | |
| Production Quality: | |
| Concept: | |
| Packaging: | |
| Overall Rating: | |