Plagues / Execution Techniques – Understanding C32
21 September 2014
xdementia
No Comment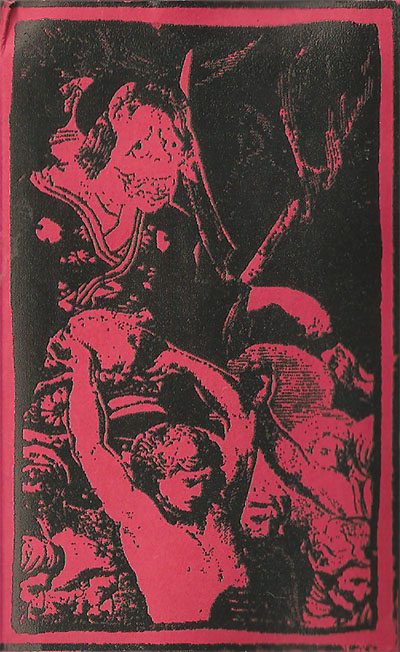 Plagues / Execution Techniques – Understanding C32
The circumstances of this cassette seem to be somehow centered around birth/death. A quick look at discogs reveals Understanding to be the debut release of the project Plagues, yet the last release ofExecution Techniques. So it is that this little tape – all on its lonesome – represents a microcosm of the universe.
Worth mentioning is the cool handmade packaging on the tape. Colored paper folded into a custom case, with a cloth bag around it – all silkscreened with various illustrations and a huge fold-out collage poster which was totally unexpected in such a small package.
Side A features Plagues; an artist of whom I have garnered a high appreciation for after having experienced the project twice at Summer Scum Fests. With fucking excellent live sets of focused sound and aktions I had to hear what Brandon Hill – the sole man behind the project – was putting down on tape. With Basement Dweller he delivers an perfect mix of styles. The track starts off with a manic sample of stringed instruments writhing in torture which is slowly overtaken by a seething wall of pummeling static. It's thick and abrasive, less wall noise and more power electronics. Finally things break away to feature bitter vocal attacks. At this point the previous wall of distortion is turned into a rhythm in an excellent display of sound design and compositional skills.
Unfortunately after such an incredible display of tactful heavy sounds it's hard to rise to the level that Plagues inhabits. The sounds of Execution Techniques in The Apathy of Violence pales in comparison to that of the mighty Plagues but I should not hold it to such high expectations. Taking the track on its own it is a decent effort of simple synth lines and subdued noise textures. The vocals somehow come off as pretty damn goofy though and the material is very lo-fi which takes away a lot of the oomph.
Understanding unquestionably stands out as a mind-blowing debut for Plagues while at the same time makes for a rather sad death blow for Execution Techniques. The material presented here also reflects that where Plagues' material is aggressive, lively, and relentless; Execution Techniques' material is long, drawn-out, goofy, and generally unappealing. It's always awkward when a split turns out like this but this is worth picking up if not only for Plagues' side.
| | |
| --- | --- |
| Composition: | |
| Sounds: | |
| Production Quality: | |
| Concept: | |
| Packaging: | |
| Overall Rating: | |