Gnawed / Breaking the Will – Split C40
22 September 2014
xdementia
No Comment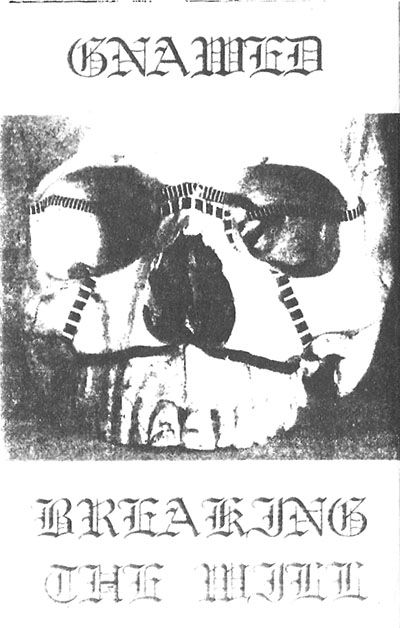 Gnawed / Breaking the Will – Split C40
This split was released last year and is quite the pairing of artists. Gnawed creates strait-forward death industrial while Breaking the Will specializes in cut-up harsh noise.
Gnawed is up first with his token deep and heavy sound. Death industrial mayhem of the highest quality and nothing less. Insanely heavy looping industrial rhythms pounding your brain out of your skull. The material is honestly perfect, falls right in line with the top-notch delivery I have come to expect from the project.
Breaking the Will is up next with a barrage of distorted and chaotic noise attacks. There are a few very short calm moments here and there but mostly this is balls-to-the-wall harsh noise utilizing feedback, scrap metal and maybe – if you're lucky – a synth here and there.
This is an incredibly solid tape. The matchup is perhaps a little funky as Gnawed's sound has so much more atmosphere than Breaking the Will but they are both quite aggressive in their own ways. Definitely a release for fans of harsh sounds, especially those who enjoy both more industrial and chaotic harsh noise styles.
| | |
| --- | --- |
| Composition: | |
| Sounds: | |
| Production Quality: | |
| Concept: | |
| Packaging: | |
| Overall Rating: | |