Sektor 304 – Engage…Forward 7″
24 September 2014
offering
No Comment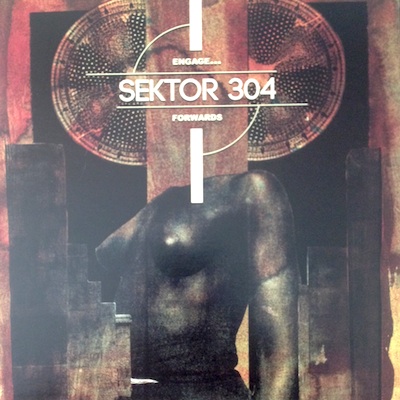 Sektor 304 – Engage…Forward 7″
Why the fuck is this the only release I have by Sektor 304? I'll admit, I've had the above bandcamp bookmarked for a while and have enjoyed the absolute fuck out of the sprawling "Transmissions "(which was released last year) and had every intention of buying physical copies. This is in my opinion the best of what modern industrial has to offer. It tips its hat at the old school, then forges on with a unique style.
"Engage…Forward" is the A side and pummels with amazing force and conviction. Skittering drums give way to torrent of absolutely unrelenting rhythm. Crushing percussion. It finally gives way to cold scrap metal abrasions which settles in for about a minute so you can let the sounds sink in. The B side ("Voodoo Machine)" staggers on in a slower tempo and makes amazing use of an electric bass to menacing affect. Both tracks are simply oppressive.
This is thoughtful and well-crafted industrial. Everything about this 7″ is flawless. The mixing is done beautifully to bring out scrap metal, electric bass, and synth to provide a nice bed for Andre Coelho to howl to, summoning the painful throes of Filth/Cop era Gira. The real kicker is the pacing…even though Sektor 304 know how to set up the intense rhythms, they also know when to hold back for a second. Virtually every minute of this seven inch feels coherent and deliberate. Whereas "Transmission" sprawled over longer songs with more gradual buildups and change-ups, the 7″ format provided a great medium for these guys to unleash succinct songs with equal passion and ferocity. Coelho's artwork nicely compliments the release…highly recommended!
| | |
| --- | --- |
| Composition: | |
| Sounds: | |
| Production Quality: | |
| Concept: | |
| Packaging: | |
| Overall Rating: | |