Gnaw Their Tongues – Per Flagellum Sanguemque, Tenebras Veneramus CD
8 October 2014
xdementia
No Comment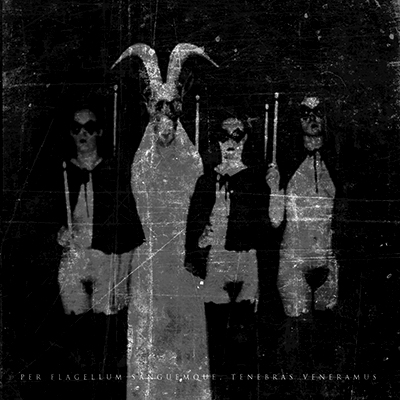 Gnaw Their Tongues – Per Flagellum Sanguemque, Tenebras Veneramus CD
The orchestra of the damned endures and it is powered by Gnaw Their Tongues the consistent Belgian project who is meshing ambient/noise and martial industrial with a black metal aesthetic. Since Per Flagellum Sanguemque, Tenebras Veneramus was released in 2009 the project has seen the release of several albums since, but it seems the original prolific progress has since slowed.
Per Flagellum Sanguemque, Tenebras Veneramus however, continues to show the solid foundation that Gnaw Their Tongues has created for themselves. If you are unfamiliar with the project you should know that the quality – as well as the density – of these compositions is very high. Tons of orchestral samples, vocal arrangements and screaming, big bass and guitar riffs and almost a constant din of drums.
It's so unflinching in its delivery that it becomes a bit much at times but that is part of how Gnaw Their Tongues focuses their aural assault. If you've heard the project before – especially the albums L'Arrivée De La Terne Mort Triomphante and All The Dread Magnificence Of Perversity – you know what to expect. If not, then you should check this out if you like any of the aforementioned genres and especially if you like all three. Imagine if Summoning covered Shostakovich and you'd have the excellently crafted songs of Gnaw Their Tongues.
| | |
| --- | --- |
| Composition: | |
| Sounds: | |
| Production Quality: | |
| Concept: | |
| Packaging: | |
| Overall Rating: | |