Street Sects – The Morning After the Night We Raped Death 7″
6 November 2014
xdementia
No Comment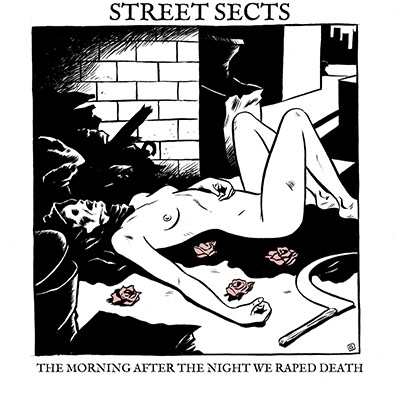 Street Sects – The Morning After the Night We Raped Death 7″
Street Sects is a project of which I am completely unfamiliar with, nor do I know the artists Leo Ashline and Shaun Ringsmuth off the top of my head. Yet with The Morning After the Night We Raped Death they have created a quality work by all means starting with the excellent packaging, art, and vision.
Side A is a very quick affair featuring the title track; yet the style of music is unexpected. It's a mix of breakcore, digital hardcore, noise and industrial which is well produced, and delivered. Blasting drum machines, screamed vocals and glitchy samples all drenched in a heap of distortion. It's like if Ministry and Atari Teenage Riot had a bastard child.
Side B is even better with varying tempos and a cyberpunk feel. The record is mastered by James Plotkin and it seems he did a pretty good job of things because the production comes across crystal clear making the material harsh and aggressive.
This is a release that is meant for fans of rhythmic industrial music like the aforementioned acts. Pounding drum machines, well-placed samples, and seething vocal attacks all make this a release that excels in all aspects. Definitely worth the $7 they are charging for a hardcopy.
| | |
| --- | --- |
| Composition: | |
| Sounds: | |
| Production Quality: | |
| Concept: | |
| Packaging: | |
| Overall Rating: | |