+Dog+ / Actuary – Ritual Filth 10″
6 November 2014
xdementia
One Comment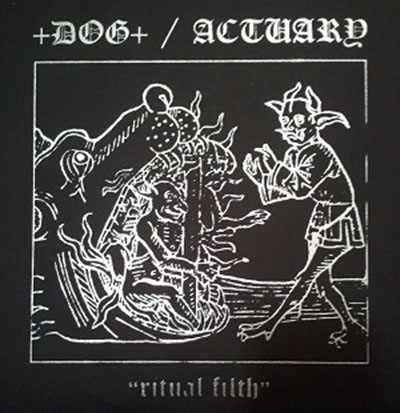 +Dog+ / Actuary – Ritual Filth 10″
So it is that these two acts meet for a split record. I'm not sure what the relation is but they have seemed to do a certain amount of work together in the past (Actuary being released on +Dog+'s label etc). The record is meant to be played at 45 RPM so it's a touch shorter than your average 10 incher. First impressions are good: heavy black matte paper with silver silkscreened print of medieval woodcut imagery keeps things simple and safe.
Surprisingly +Dog+ actually presents a track entitled Halcyon Days Revisited that is more on the ambient side of things. It begins with some basic inharmonic tones with a cinematic air but soon builds into distorted phasing attacks. It's all put together quite well and shows that not only is +Dog+ able to tackle other aspects of noise but that he is able to evolve his sound at the same time. Towards the end of the track the distorted elements eventually uncover a rhythmic loop underpinning the whole track. And just to throw the listener off a little, +Dog+ leaves us with a wacky locked groove at the end of his side.
Actuary is up next with Inconvenient Gift which I find to be a very interesting name. I wonder what the story behind this track is, but I can only speculate. It has a glistening machine drone as the core which eventually builds into a distorted drone accompaniment. There's plenty of industrial and noise elements here but it's quite slow and plodding reminding me much of Necrose Evangelicum era Brighter Death Now.
These two artists have crafted an good split here. It especially lines up together well since +Dog+ changed styles and met the middle ground with Actuary's more death ambient tilt. The material here is nothing groundbreaking or original but it sure is two solid tracks of dark and seething electronic sounds.
| | |
| --- | --- |
| Composition: | |
| Sounds: | |
| Production Quality: | |
| Concept: | |
| Packaging: | |
| Overall Rating: | |