Bob Bellerue – Brokelyn LP
12 November 2014
xdementia
No Comment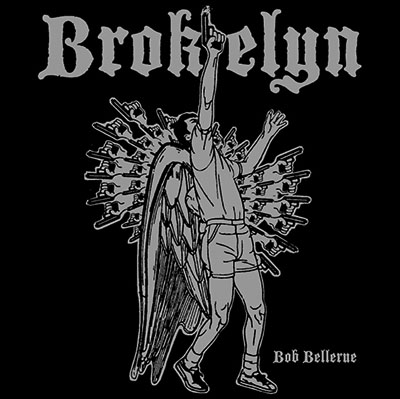 Bob Bellerue – Brokelyn LP
Bob Bellerue has been a major force in the NYC noise scene for quite some time now and it's good to finally be able to hear a full-length release from this tenured artist. The insert recommends that the listener use a high-fidelity sound system and "turn it up to FUCK YEAH" for best results. Well Bob, you are in luck because I have such a system and my roommates aren't home.
Side A kicks off with some classic daytime ambience complete with bird calls and subtle wind. It builds to a phasing, pulsating wall of thick droning noise. The track slowly morphs over time but is quite consistent throughout. The sound manipulation keeps the track evolving however and provides a seething bed of malcontent frequencies.
Side B features the track 111810 which encapsulates various metallic wire-like textures distorted and saturated. Finally breaking down into low tones yet slowly morphing into searing highs. It has similar qualities to side A but enough variation to keep my interest piqued. About half way through there is a rise of subtle field samples which could be simple city ambience or the sounds of war. It's very much embedded in the noise so it's hard to tell but the abstraction is effective.
Brokelyn is a solid effort with a decently consistent vision throughout. The sonic material on here could be described as ambient-noise and has enough detail to show that there was some thought put into recording these tracks. I also enjoy the thick and saturated sound that Bellerue is able to achieve here. Good work.
| | |
| --- | --- |
| Composition: | |
| Sounds: | |
| Production Quality: | |
| Concept: | |
| Packaging: | |
| Overall Rating: | |