Skin Graft – Enemy LP
13 November 2014
xdementia
No Comment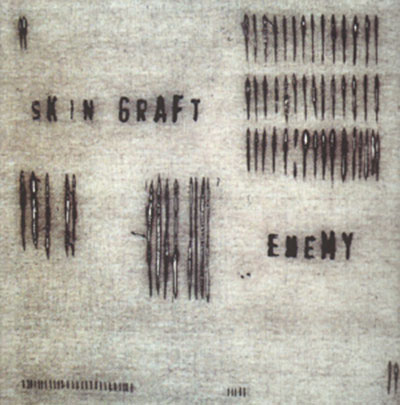 Skin Graft – Enemy LP
Skin Graft is Wyatt Howland from Ohio. He has been a rising force in the noise scene for quite some time now but interestingly the small bit of information provided on this LP mentions that this material was recorded from 1986-2013 of which is much longer than I believed him to be operating.
Side A begins with low crunchy noise and industrial clanging. It's apparent right from the outset that Howland means business here. The overdriven sound here is somewhat like a sonic avalanch of distortion with the source material drowning in overdrive. It's very effective and reaches new heights for harsh industrial music. After a fitful assault of heavy electronics the track takes a turn for a more atmospheric direction and drops out to a low-drone and abstracted field recordings. Breathing, cut-up dialog, and less overdriven scrap noise create an asbolutely horrifying soundscape. There's something that is just inherently scary about this yet nothing overtly shocking or violent. I'm guessing that the earlier recordings are from Howland's childhood, when I listen carefully it sounds like maybe just a child playing with a recorder but the way it is edited it creates an extremely dark and obsessive air.
Side B kicks off with a lo-fi cut-up harsh noise attack. In this element Howland still flourishes with changes in the overall production sound, wailing walls of alternating distortion, overdriven into oblivion. There are tons of textural and gestural changes here with plenty of feedback wails, distortion varieties, and howling frequencies that really lets Howland show his versatility.
Side B is pretty much what I expect from the project which is to say top-quality harsh noise with touches of industrial along the edges. Yet it's when Skin Graft steps out of his safe zone and tries something different with the material on side A that Howland really creates something special. This puts Enemy on the next level and proves that not only has Skin Graft solidified his place at the top of the noise food-chain but that he is also evolving to become an entirely new kind of beast.
| | |
| --- | --- |
| Composition: | |
| Sounds: | |
| Production Quality: | |
| Concept: | |
| Packaging: | |
| Overall Rating: | |