Father Murphy – Anyway, Your Children Will Deny It LP
26 November 2014
xdementia
No Comment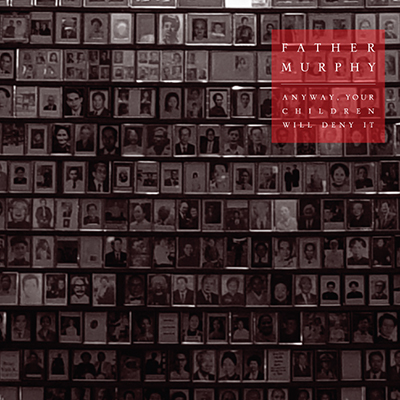 Father Murphy – Anyway, Your Children Will Deny It LP
Father Murphy is a duo from Italy who are influenced by such artists as Goblin and various horror film soundtracks but have a very original and experimental take on those sounds. Utilizing a mix of electronics and guitars these tracks are on the more musical side of things but also have a focus on rhythm. The atmosphere is one of dark corners and hidden secrets, it is a very intimate kind of music that they create.
Side A spans a wide variety of sound going from the more rhythmic His Face Showed No Distortions which focuses on pounding industrial rhythms and ending with the melancholic Diggin In The Bottom of the Hollow. The latter of which makes subtle use of accordion and carefully sung lyrics strewn on top. The music is often accompanied by vocals which are generally quite trance-inducing chant-like invocations that set a religious tone.
Side B begins with In Praise of Our Doubts which is perhaps my favorite track on the album. This track actually leans more towards a neo-classical angle than anything else but it is effective in its delivery and sound although it is a small step outside of Father Murphy's normal style. The following tracks on this side are slow dirges with more odd vocal deliveries and driving rhythms. Religious like organ music is combined with heavy chains and metallic explosions along with whispering in In the Flood, With the Flood.
Anyway, Your Children Will Deny It is an excellent work filled with brilliant and unique ambience that harkens to creepy religious themes. Father Murphy is able to perfectly blend dark ambient, industrial and indie rock – yes indie rock – into a well crafted and aesthetically consistent effort with this release.
| | |
| --- | --- |
| Composition: | |
| Sounds: | |
| Production Quality: | |
| Concept: | |
| Packaging: | |
| Overall Rating: | |