Yen Pox – Universal Emptiness 10″
14 January 2015
xdementia
No Comment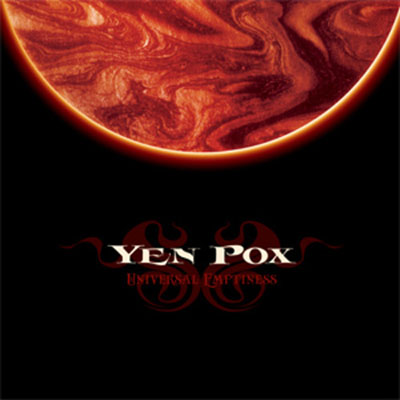 Yen Pox – Universal Emptiness 10″
Yen Pox previous proper release before this 2011 vinyl creation was put out in 2002. Although the group is not known for their proliferation they are known for their quality dark ambient soundscapes and I was surprised to hear this arrive with little fan fair. Certainly the lack of excitement is not warranted as this slab of vinyl proves that Yen Pox continues to create some of the best atmospheric music out there.
Side A gets things off to a slow start with subtle spacious and airy drones slowly layering as the track moves on. These are synthesizer tones but not boring or too electronic sounding. It has a certain organic quality to it. It's difficult not to compare this to Michael Hensley's solo material as Bloodbox but the sound here is not as somber and leans towards the more mysterious side.
On side B the composition begins to deepen and picks up quite a bit. Drones in the lower register are added as well as more whispy movement in the top end. There are some vague harmonies presented but there always seems to be a lot going on. This is not the minimal Yen Pox of yore but a dense wall of active sound morphing into oblivion.
The spectra of this material is quite similar to a lot of modern day dark ambient including such quality acts as Inade and Northaunt. Of course the material is composed with the utmost care and precision as to be quite an effective mix of dark sounds. Those who were already fans will not be disappointed and those who haven't heard the project will most likely enjoy this as a starting point.
| | |
| --- | --- |
| Composition: | |
| Sounds: | |
| Production Quality: | |
| Concept: | |
| Packaging: | |
| Overall Rating: | |