Nyodene D / Wolves of Heaven – Split LP
27 January 2015
xdementia
No Comment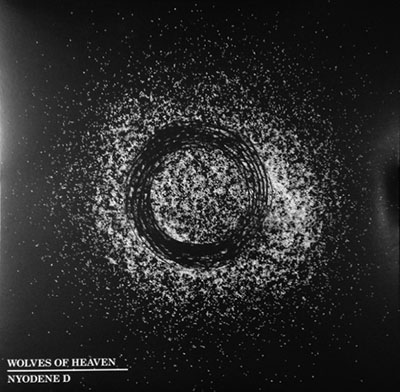 Nyodene D/Wolves of Heaven – Split LP
Nyodene D is the project of Aaron Vilk based out of Ohio and Wolves of Heaven is Andrew Nolan and Eric King who I am previously unfamiliar with. For some reason I thought they might be a metal band. I was wrong. It turns out not only are these two projects perfectly matched for a split in terms of sound and style but they have also created one hell of a power electronics/death industrial record!
Nyodene D is up first with what is perhaps his most diverse showing yet in 3 tracks. Each track has the gravitas of being a "Movement" because of their commonalities and differences. The production here is quite good and the style actually reminds me of New England's own Bereft; especially in the track Nostalgia is a Weapon because of it's plodding industrial rhythms and caustic vocal attacks. The production is massive and there is plenty of layering and sound manipulation which make for exciting repeated listens. This is a different Nyodene D than the artist who released Every Knee Shall Bow with its effective edge yet overuse of unchanging industrial loops.
When Wolves of Heaven kicks off side B with Desire there are moments that remind me of Bastard Noise; mostly in the vocal delivery. But these artists have a dynamic and intense sound that envelopes the aspects of industrial that work best. Layers of synths collide with rhythmic loops which interact with the vocals to great effect. Wolves of Heaven doesn't seem to be stuck in the past with genre restrictions but rather forging ahead and somehow pushing the boundaries of heavy electronics. This is purely an industrial outing yet there are some aspects that remind me of doom metal which is a surprise.
I am really blown away by this release. The artists are so perfectly paired together and have delivered such great tracks. They are showing without hesitation that heavy electronics isn't dead and that there are still more places for death industrial and power electronics to evolve to. Excellent work.
| | |
| --- | --- |
| Composition: | |
| Sounds: | |
| Production Quality: | |
| Concept: | |
| Packaging: | |
| Overall Rating: | |