Citizen 2-13 – A Violent Means Til The End C12
14 April 2015
xdementia
No Comment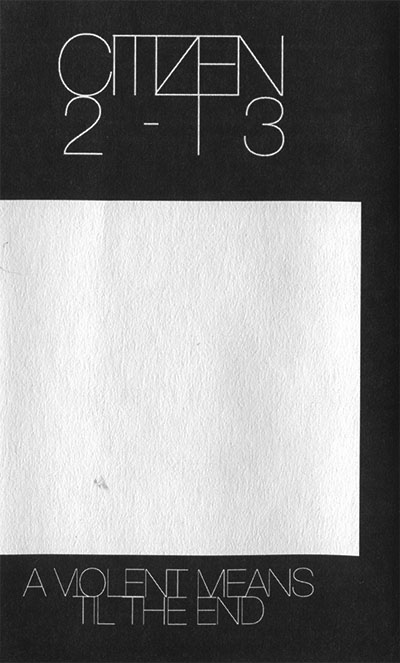 Citizen 2-13 – A Violent Means Til The End C12
I reached into the pile and pulled this sucker out of the deep end and what a fucken grab it is! It's a shorty but I'm not at all surprised at the high level of quality considering this is coming from Peter J. Wood's label FTAM.
The packaging is understated as are most of the releases from this label but that doesn't hold back the fucking excellent barrage of dense harshness that side A employs. Mangled samples with people screaming open things up and it's mostly just a all-out war from then on. Nothing but overdriven insanity leading to feedback swells.
Side B doesn't even fuck with samples it just goes straight to the noise, kind of like sex with no foreplay. This is rough and harsh. Lots of filter/eq sweeps to keep me interested and deliver booming bass. At the end we get a quick taste of blasting junk noise.
This is dose of harshness that the doctor has perscribed but he doesn't expect a call in the morning because despite his encouraging words A Violent Means Til The End has some devastating side effects. For harsh heads only.
| | |
| --- | --- |
| Composition: | |
| Sounds: | |
| Production Quality: | |
| Concept: | |
| Packaging: | |
| Overall Rating: | |