Pig Heart Transplant – For Mass Consumption LP
15 April 2015
offering
No Comment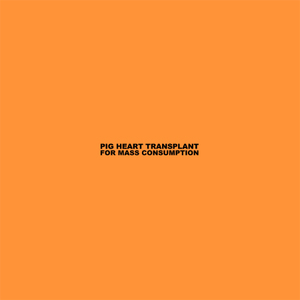 Pig Heart Transplant – For Mass Consumption LP
Perhaps better known as the guitarist in Iron Lung, Jon Kortland is no stranger to noise.
In addition to his punk projects (Gob), he participated in a series of obscure projects in Reno, Nevada, quietly creating disturbing ensembles of noise and filth, firmly ahead of his time. At some point Pig Heart Transplant took root. Its previous works span a huge range of sounds and feature collaborations with a variety of musicians. Iron Lung remains his most prolific project, over a decade and a half going strong.
With such sonic diversity under his belt, this record marks yet another approach as "For Mass Consumption" blasts through over two dozen tracks of completely unhinged and succinctly scathing power electronics compositions, each around the 44 second mark. 45 RPMs move the record along quickly and repeated listenings are advised. I don't think I've ever heard the powerviolence aesthetic applied to power (violence) electronics so effectively.
I shall not go into a track-by-track analysis since the record feels much more like a contiguous quiltwork. I will also forgo dissecting major themes as they will be evident after consumption. Every track here is smeared in anger and frustration. Interspersed throughout are disturbing instrumental intervals that break the record up nicely. While little is spoken in terms of the volume of lyrics, an overflow of pent up rage can be perceived. Kortland chooses to employ lurching mid tempos of crushed drum machines and loops pulverized under distortion waves. The real treat here is that you can hear Kortland's vocal delivery clearly over the mayhem. He sidesteps the typical rape/pederast/ham-fisted violence approach and opts for terse reprimands and revelations which remind me at times of Big Black era Steve Albini.
Having listened to virtually all of the incarnations of PHT, this is the first one that feels very much like Jon Kortland in its totality. The LP version comes with an awesome 12X12 triple panel insert displaying the same ominous safety orange as the cover. Do yourself a fucking favor and also purchase the cassette version of this so you can hear a full 20 minute cassette only B-Side. Artwork courtesy of Feeding.
| | |
| --- | --- |
| Composition: | |
| Sounds: | |
| Production Quality: | |
| Concept: | |
| Packaging: | |
| Overall Rating: | |