Kerrstillingskozletskynyströmpetrus – Death Instruktions LP
19 April 2015
offering
No Comment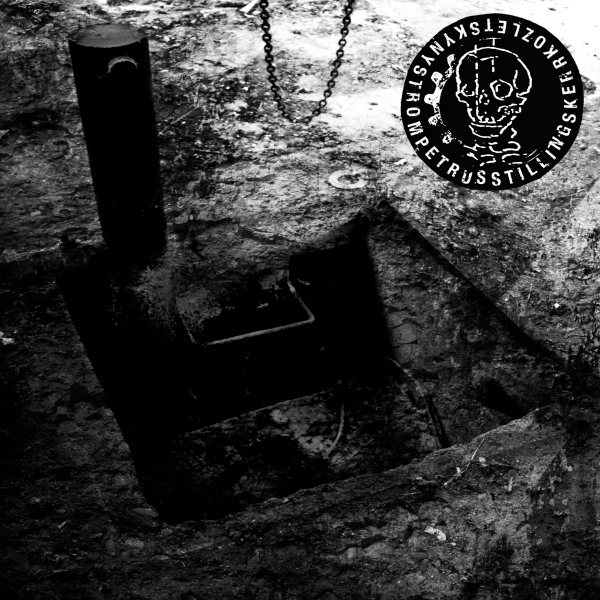 Kerrstillingskozletskynyströmpetrus – Death Instruktions LP
Informed by a single vision (in this case, the cover art), Kerrstillingskozletskynyströmpetrus have crafted Death Instruktions with a mangled and dark vision incorporating each of the artists' styles collaboratively. The result is a pretty compelling if not a somewhat murky and hazy concoction. Admittedly, I am only somewhat familiar with the work of Steel Hook Protheses, Murderous Vision and Megaptera, but it's not difficult to understand why these artists would want to work together.
The tracks are crafted as distinct songs that shift within the course of the LP from haunting static movements (Beardsmen Bathed In The Blood Of The Sick) to panicked and percussive (The Executioner) to ruminations evoking some nods to the old school (Until They Hit The Ground). Each person's contributions are hard to quantify, but judging by my own personal knowns about what each artists does, it seems like all parties were probably represented pretty equally and everyone stuck to the script. Again, there is a really nice presentation in the sounds here and the songwriting for the most part. The sounds never really bleed into gratuitously harsh careless blasts and the samples are well executed; everything is punctuated perfectly (the LP format was perfect for this album).
Being the first outing for K.S.K.N.P., a lack of information makes it difficult to know what the artists really hoped to convey. All the songs revolve around death which is no surprise, but the somewhat underwhelming insert gives some bleak lyrical descriptions about the topic and not much else more. Maybe other listeners out there will feel that there is something lacking that makes it a little bit difficult to really plug into "Death Instruktions." Maybe it's just the unfair expectations that fans of the respective artists will have about this project.
Whatever the case is, the shortcomings are certainly forgivable as "Death Instruktions" is proficient at achieving its aim of creating heavy compositions of the likes of Test Dept, Controlled Bleeding, Laibach, etc. I really liked that the artists chose to focus on the cover art (which appears to be some sort of sinister set-up), but with the next release I'm hoping there is just a little more background to sink my teeth into.
| | |
| --- | --- |
| Composition: | |
| Sounds: | |
| Production Quality: | |
| Concept: | |
| Packaging: | |
| Overall Rating: | |