Ride For Revenge – Disturbances 2XCS
19 April 2015
offering
No Comment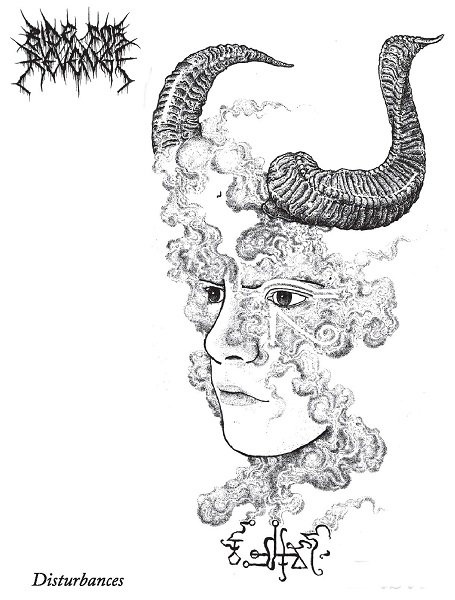 Ride For Revenge – Disturbances 2XCS
"Disturbances" collects a few tracks of an early Ride For Revenge demo, some live material and a large swath of unreleased tracks. Originally released on CD by Bestial Burst, Analog Worship has committed the compilation to double cassette format in a thoughtful packaging array including a double cassette outer slipcase with some pretty amazing artwork.
If you're familiar with Ride for Revenge or Mentor's other projects (Will Over Matter, Womb C, etc.), you're going to love and appreciate Disturbances, but you probably already know that. For the rest of you who are wondering why a black metal band is being reviewed here, I'll go into some detail.
Firstly, Ride For Revenge hail from Finland (of which the mere mention of the country name evokes a great deal). On paper, the band is a primitive, occult black metal band with noise influences. The way this comes together though is something else entirely. For any self-professed elite metalheads, the huge disclaimer here is that Ride For Revenge excels in atmosphere rather than on riffs (courtesy of J. Perversor and company) and there are no major technical aspects to this band. In my opinion any reliance on technicality would really weigh down the overall sound. There are not many riffs, no solos, no blast beats, nor much else overtly "metal" for the traditionalist. This is in part what makes Ride For Revenge unique. The other component is vocalist Harald Mentor who sounds like an absolute lunatic, providing vocals (sometimes further corrupted with various vocal effects) and presence which resonate throughout. Lastly, the way in which Ride for Revenge utilizes noise and other sounds is a unique and strange experience that has seldom been as effectively interpolated/manipulated.
Upon listening to the longer unreleased portions of Disturbances, "Disturbing The Dream" greets the listener with Konrad Schnitzler-like modular bleeps that seem to go on forever, until vocalist Harald Mentor's voice wafts in and the trademark Ride For Revenge hacksaw string section creeps in – a black tar soaked and strangulating series of tones that resemble a damaged MS20 more than a bass or guitar, employing some gregarious method of Satanic gain overload. "Disturbing The Dream" finally erupts into a free-for-all harsh noise ensemble…and if you made it through this 20+ minute ordeal, then you have a lot more to look forward to. "Storm Of Fire" offers a pure harsh noise salvo of high pitch squeals from hell and reveals more about the band's influences while "The Privilege" blends harsh noise, distorted vocals and traditional instrumentation together brilliantly like some sort of Kraut Rock dystopia, not totally unlike Aluk Todolo. The second tape follows offering some live tracks (nice recordings!) and a few more unreleased tunes. "Wir Sind Götter III" sounds like early Beherit on painkillers and cough syrup while the Declaration Of Darkness tracks are more traditional black metal.
Disturbances is bound to wear most listeners out at some point if they hope to listen to this in one sitting. In addition to the large heaping of material, the band showcases their less direct approaches and explores the darkest realms they can access. Certainly there is some variation in the songs, recording quality and sounds, but the moods and tempos (particularly the drums) remain fairly consistent. As with most compilations of b-side material, this is more for completists than initiates and features a little bit of obligatory filler ("Final Harvest" in particular…somewhat interesting but unnecessary). It is a lo-fi affair and appropriate on cassette format…it is obvious that Analog Worship put a lot of time into making this release look stellar. If you familiarize yourself with Ride for Revenge's LPs (particularly Under The Eye and Enter The Gauntlet) and then check this out, you will enjoy it more.
| | |
| --- | --- |
| Composition: | |
| Sounds: | |
| Production Quality: | |
| Concept: | |
| Packaging: | |
| Overall Rating: | |