Sete Star Sept/Disleksick 7″ Flexi
2 May 2015
offering
No Comment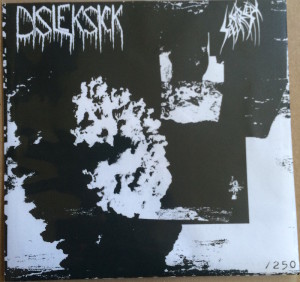 Sept Star Sete/Disleksick split flexi
Noise grind is not so much a genre as it is an excuse to completely stack overflow your discogs page with mostly meaningless releases, a move that was predestined by the Belgian bred Agathocles. Japan's Sept Star Sete similarly has been climbing this shining path over the last several years themselves by releasing a gaggle of mostly completely useless band splits to occupy grind collector freaks. Kind of in the same way a dope rapper might make him/herself look good by giving a cameo to some garbage emcee. In this case, Sept Star Sete is the dope rapper…I have the Revision of Noise LP and I'm happy with that – slaying riffs and maniac drums and hardly disposable. Good stuff there! But there's too much noisegrind to wade through to find similar stuff. I certainly can't keep up. And I don't want to.
So on this cool highlighter yellow flexi, you get some of the aforementioned, better articulated SeteStarSept instead of the more lo-fi dogshit grind obstinacy presented on material like their 10″ with Noise (Brazil). 4 tracks that barrel through with speedy efficiency/riffs. From a musical standpoint, the better side of the split. Still noisy! Still rude!
Surprisingly, Disleksick (who are from the US) offering a cool battering of tracks that somersault around at nosebleed gain levels, and end up sounding like your favorite high school power electronics project who just ditched their Tragedy 7″s for Merzbow and Masonna CDrs and can't afford to buy a vintage Virus synth. Lots of gain going on here and tons of direct to tape clipping and compression. Some interesting structures too, where the high end feedback gets buried in a very nice and unpleasant way.
Maybe this doesn't really qualify being on here because it's limited as fuck, the paper insert is all wrong with the order of the songs and the art is lame, and the ubiquity of this shit is preposterous. But still I respect the game…no gods, no synthesizers, no LFOs, just traditional instruments shit splattered into oblivion.. you think you've found a riff, you're fucking up and missing the point.
| | |
| --- | --- |
| Composition: | |
| Sounds: | |
| Production Quality: | |
| Concept: | |
| Packaging: | |
| Overall Rating: | |