James Reindeer – Om – A Tribute To John Coltrane, Vol 3 C60
4 May 2015
offering
No Comment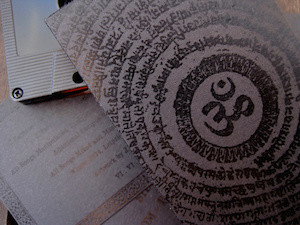 James Reindeer – Om – A Tribute To John Coltrane, Vol 3 C60
I feel like a lot of good writers sacrifice a disproportionate amount of life energy crafting perhaps a line or maybe even a single phrase that can really make their audience feel revitalized, moved, or inspired. Maybe that's why James Reindeer has opted for a very hard right turn towards the field of dark ambient than his former/current role as an experimental underground rapper (of sorts).
The 3 Om – A Tribute To John Coltrane tapes form a triptych that presumably revolve around John Coltrane's "Om" record. "Om" is an absolute trip of a jazz album featuring lots of mystical undertones, free form musicality, and a very spiritual representation of Coltrane's reflection on the syllable of its namesake. James Reindeer's connections with the album are probably along a similar tangent point of appreciation of the inner-wordly.
The packaging of each of the three cassettes features an unmarked black tape and some card stock inserts all contained in a obelisk-like folding cardboard case that is adorned with sanskrit text depicting the resonance of ॐ. Very, very tastefully done.
James Reindeer is from Germany by way of London. Based on hearing his expressive and wirey raps, I had very little to go on from the description of what Om – A Tribute To John Coltrane would sound like… what I initially thought would be more like basic ambient sounds atop drum machine beats is actually a dense experience of contemplation and meditation, perhaps like a soundtrack. The compositions are masterful cascading sheets of dark orchestral sounds, rumbles, hums, scrapings, and field recordings with help from a J. Mason that waft in and out with grace, possibly culled from a larger session. It's a very good approach to self-examination and spiritual stirrings that will suck you in, especially on headphones. Really nice work on the mixing and mastering…the recording quality is excellent. Parts of it remind me of a more abstract Raison D'Etre, and these Tribute releases would be not out of place released on a label like Beard of Snails.
The entire 3 tape tribute makes up about three hours, with volume 3 bookending the last hour of music across Parts IX, X XI, and XII. While it does go on for quite a while and features a somewhat similar palette of sound sources, it still makes for a deeply engaging listen. It also is a welcome reprieve from all the really good, but totally bummer-city shit I've been consuming lately.
Volume 3 (a massive C60) is the only tape I was able to purchase in its limited run of 6, but it can be downloaded by clicking the link above. Definitely recommended…this will probably make my year-end list.
| | |
| --- | --- |
| Composition: | |
| Sounds: | |
| Production Quality: | |
| Concept: | |
| Packaging: | |
| Overall Rating: | |