Aderlating – Gold Streams From The Angel's Throat Part 1 C30
8 May 2015
offering
No Comment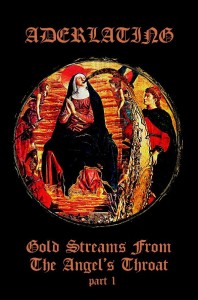 Aderlating – Gold Streams From The Angel's Throat Part 1 C30
Mories has patented a particular sound by using tension to build up to a rich ejaculation of violent, ear bleeding sounds which often incorporates black metal elements. Aderlating is somewhat new to me and seems to be a sort of less black metal influenced project than Gnaw Their Tongues, De Magia Veterum or Cloak of Altering. But even Aderlating frequently dips its toes into black metal territory. While the nuances are lost to an initiate like me, and what little I've heard of each of the mentioned projects seems somewhat undifferentiated, I do dig Mories' sound
So it may surprise Aderlating fans that Gold Streams…Part 1 settles for a different sound than its predecessors, such as the intense and demoniac Spear Of Gold…Volume 1, the only other Aderlating release I'm acquainted with. The obvious difference is that Gold Streams…Part 1 is far less saturated and does not predominantly feature Mories' soul crushing black metal predilections. There is a fair amount of space and slack here for both Mories and Eric Eijsspaart to find common ground.
"Nightfall" features a mental ward excavated synthesizer arpeggio, climbing high end piercing, scrapes, and agonized vocals but still allows the listener to not be totally subsumed by expected blackened torrents. "Salvation Built On Mass Graves" features a taste of anti-liturgical mass organ, distant washed out orchestration, and plenty of murky tones. I didn't feel overwhelmed by these tracks, and they really underscored the synthesis of two personalities without completely obliterating the music canvas. Throughout there are a great number of samples to help keep things varied, and the recording quality is above average to help draw out and define the disparate sound sources. Interestingly some black metal overtone is extant on Gold Streams…Part 1 that remind me more of Dead Raven Choir than Mories' own black metal projects.
Maybe the two Aderlating personnel are finding new common ground, but it comes up a little short in the composition department for me, particularly like side 2's "Like Beasts" which draws attention to itself by highlighting its awkwardness with sinister twinkling and dank contemplations. One might get the sense that Mories is just repressing the urge to cut through and dominate while trying to cooperatively forge new musical ground with Eric. The result is that Gold Streams…Part 1 has a work in progress aura to it. I shall wait for Gold Streams…Part 2 nevertheless.
| | |
| --- | --- |
| Composition: | |
| Sounds: | |
| Production Quality: | |
| Concept: | |
| Packaging: | |
| Overall Rating: | |