Ochu ‎– Tvärsnitt LP
8 June 2015
offering
No Comment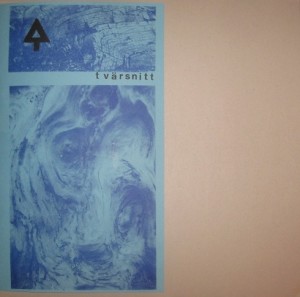 Ochu ‎– Tvärsnitt LP
Ochu is an experimental music group from Sweden that focuses on creating improvised instrumentation not unlike Musique Concrète. Some of it involves samples and loops while other portions revolve around rhythmic clanging and metallic scraping underneath various drones.
Obviously, this type of stuff isn't for everybody and it could come across as a music conservatory mid-term for some. For me, it does have a concept art mystique about it, as it appeals to my visual senses and appreciation for natural elements used musically. "Der Letzte Sand Läßt Meine Augen Leer" (google translation: The Last Sand Makes My Eyes Empty) immediately transports me into a very cinematic macro-lens oriented scene, completely with grainy black and white 8mm rolls flickering by, featuring some subdued melodies played on a keyboard. There is some interesting texture and nuanced sophistication to the primitivity, which hints at some formal training/knowledge but is reaching for the soft zen of repetition. The middle-end movement of this track spirals into a mesmerizing volley of struck bowls and snaking metal fragments. It's strangely familiar to me…
The second side is spooled together more conservatively, "Grovkornighet / Icke Livskraftig (google translation: Coarse/Non-Viable)" containing more fabric-like arrangements that hang out for awhile and then morph into more agitated fabric-like arrangements. My favorite, the second track "Urskillning" (google translation: Discrimination) loops into a percussive resonance with spheroid, rock material manipulations crumbling over hollow objects, and a final culmination into fluttering frequencies that sound like an army of happy seals.
I really appreciated the simple insert that accompanies this release…you have a small visual hint of what inspired the sounds, and also that they have a connection to the earth. The word Tvärsnitt (google translation: Cross Section) is particularly evocative of the organic and terrestrial nature of this album, with parts that are so kinesthetically apparent you can almost feel the rocks in your hands. The blue fold-over cover art is also subtle and tasteful, helping to give the album a feeling of ritualism without ostentation and pomp.
| | |
| --- | --- |
| Composition: | |
| Sounds: | |
| Production Quality: | |
| Concept: | |
| Packaging: | |
| Overall Rating: | |