Voidmorf – Beyond All The Light CD-r
3 June 2015
offering
No Comment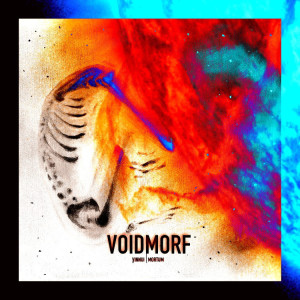 Voidmorf – Beyond All The Light
I usually shirk away from reviewing most ambient music because I am not all that skilled at expounding on what works or doesn't work. I can say at least that Voidmorf is comprised of several members and that they are undoubtedly proficient at creating crisp, well-produced, and pleasant sounds of cosmic ambiance to create musical structures that just sort of float along, thereby somewhat effectively achieving the nebulous vacuity of space. Beyond All The Light is not a particularly bad album by any means. Expertise however does not always mean a good album will be created.
I am at a loss to really make any other significant observations about this album because Beyond All The Space falls in step with other space themed ambient albums that I have heard: high production values, quark pulses, hyperspace transmission bleeps, epic song lengths, melodramatic motifs, broad and panoramic interplanetary tones, scientific "social commentary" snippets, large room reverb with light-year long decays, and of course, song titles that address and obviate the theme at hand. Most of the tracks feature space-chaos random synth collisions that incidentally create melodies, harmonies and patterns as song structures are eschewed in favor of emotion. A couple of tracks, such as "Infinitesimal Atoms And Molecules As Miniature Solar Systems" feature a rhythmic element, but one that seems superimposed and diaphanous. Most of the album progresses unobtrusively for the most part, and resembles (to me) something that could be great bed music for Neil DeGrasse Tyson than something that really stands on its own.
The use of virile, non-serif fonts together with gratuitously layered visual-filter assaults harkens back to the early and mid 90's – a style that makes me cringe every time I look at my old Front 242 tapes. These conventions are, unfortunately, the most salient aspects of Beyond All The Light…used in this day and age, I find these high-school lit mag grade choices to be supercilious and atrocious. Check the back of the digipack for a particularly poorly chosen illustration, where a solid black background and maybe some text would have sufficed. While probably not their intent, if Voidmorf was going for the smug "trench coat/cold war spectacles guy with a laptop" effect, then they may have succeeded, visually. For this kind of stuff, I'd say The Place Where The Black Stars Hang is a perfect reference point…I'll take a 1000 rip offs of the reissued black and white album cover any day.
In addition to these oversights and the dis-spelled portmanteau project name, the professionally dubbed CD-r beer coaster may not work correctly with your machine. If you can tolerate the aforementioned issues, then this may be worth your time.
| | |
| --- | --- |
| Composition: | |
| Sounds: | |
| Production Quality: | |
| Concept: | |
| Packaging: | |
| Overall Rating: | |