Regosphere/Teeth Engraved split C20
28 May 2015
offering
No Comment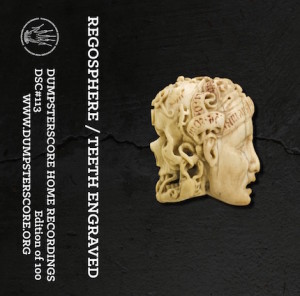 Regosphere/Teeth Engraved split C20
Dumpsterscore is back with another helping of off the beaten path heavy electronics, pairing two Pacific Northwest heavyweights on one C20. Regosphere is well known to this site as his brand of power electronics is a mesmerizing and anxiety-inducing sort, and is documented fairly well on an extensive discography. Teeth Engraved is a mostly death industrial duo that often pursues more dense and timbre-laden pathways to achieve their sound.
On "Panic Architecture", Regosphere excels in making his sound choices distinct, yet not so self-evident in how they're arranged…his instruments of choice are raw and unique and the creativity displayed here offers a just-barely tethered treatment of skeletal samples, skillet-toasted synthesizers, and excellent percussion (which takes a cool supporting role a few notches below in the mix). The bass plucks are the jewel of this track, as they trawl the bottom end subtly, amidst the ropey DNA strand mangling synthesizer tones: after you're hooked, the bass plunges on, emerging against a few change-ups, only to be submerged one last time under Regosphere's warped vocals which end the track. Throughout the change-ups, there are a few moments that hang on for just a little too long, but Regosphere knows how to switch things up as needed. This track features more eclectic ingredients than what I've heard of Regosphere (like the Xiphoid Dementia or Vomit Arsonist splits) and offered something new for me.
The craftsmanship of the sounds and composition for the motif on "Charting The Barrens" is impeccably sequenced and heavily nuanced. It took me three listens to get a grasp on the subtle changes. The main elements in the track are fairly contiguous and monolithic and the (dare I say) epic melody and dramatic flourishes will bum out the harsh kids. The perfectly sculpted percussion is fantastic with additional wires of static to help variate the immersive soundscape. But the super microwaved into atomic dust vocals seemed a little place out of me. There are two (or maybe three) different processed vocals styles that lurk in the mix and pop up intermittently, sometimes correlating with different progressions on the track. They also seem just a hair too hot in the mix, and may be better suited on blown to shit face ripper compositions like "Shredded Sky, Hung In Tatters" on Starving The Fires Pt. 1, surrounded by columns of crushing noise. I was enjoying the Songs Over Ruins vibe that was going on and I suppose I didn't really want to be evicted from that head-space. Still, it's a small detractor, and on repeated listens the screams make slightly more sense as a valuable counterpoint to the mix than a stark contrast. Teeth Engraved can count this as a definite success.
The split C20 format can be a sticky one…one ten minute whopper or a couple of shorter rounds? Both artists splay their phalanges out well for the most part. Dumpsterscore chose a cool T-1000 molten silver shell and professionally handled the affair…crystal clear clarity and great mastering job to blast on your way to the family picnic.
| | |
| --- | --- |
| Composition: | |
| Sounds: | |
| Production Quality: | |
| Concept: | |
| Packaging: | |
| Overall Rating: | |