I.Corax – The Cadaver Pulse II: Mothelix Liquescent CD
23 May 2015
xdementia
No Comment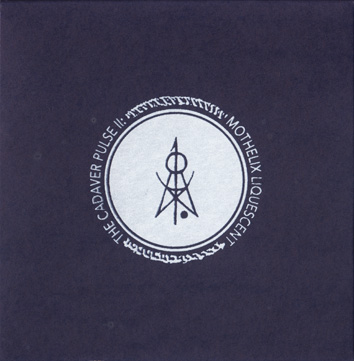 I.Corax – The Cadaver Pulse II: Mothelix Liquescent CD
Here is the second I.Corax reissue from Aural Hypnox which is also the second part of The Cadaver Pulse series. For a review of the first disc go here.
If you have been exposed to any Aural Hypnox bands before you know what to expect; the highest quality ritual dark ambience out there and in this Mothelix Liquescent is no exception. Abstract yet meditative I.Corax combine both digital and acoustic sound sources into the equation to form a truly mysterious atmosphere. If I were to compare the style of their music to other projects in the genre I would say they have a more electroacoustic edge – as do a few other of the Aural Hypnox projects – than most and it is welcomed. You won't find boring synth presets or over the top tribal drum beats here.
That said the material is somewhat dated by the high standards of Aural Hypnox material so this is most definitely a trip down memory lane. The sound is much more digital than I remember it being because at the time this felt so much more organic than a lot of dark ambient music out there. However Aural Hypnox projects have gone into such a more acoustic realm since that this now seems rather cold and digital in comparison which – although it only slightly detracts from the atmosphere – it mostly only works to heighten the electroacoustic elements. Yet, where there are acoustic sound sources here I cannot really tell as they tend to be more high frequency sounds like squeaking metal, bowed cymbals and perhaps crumbling leaves or rain sticks.
If you have cast off the genre of dark ambient music for it's boring and unoriginal qualities I humbly ask you to seek out some of the Aural Hypnox material. With Mothelix Liquescent as a starting point you will not be disappointed and it will in fact set your expecations at a reasonable place for experiencing the more recent releases in the Aural Hypnox catalog because it only gets more ritualistic and acoustic/organic from here on out. As for reissuing this material on CD if it monetarily made sense for the label good move. Aesthetically I don't really think it was necessary but for collectors like me this is a special treat and I'm certainly happy to be able to hear this 12 years removed from its original release date and painstakingly packaged with new artwork inserts, silkscreened runes and all.
| | |
| --- | --- |
| Composition: | |
| Sounds: | |
| Production Quality: | |
| Concept: | |
| Packaging: | |
| Overall Rating: | |