Offering 1_1: Noise As An Appliance
1 June 2015
offering
No Comment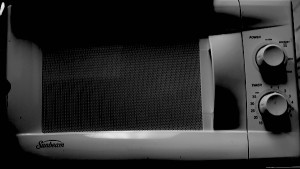 Offering 1_1: Noise As An Appliance
"Tank Killer" by Man Is The Bastard…I first heard this song in high school through borrowing a couple of Man Is The Bastard CDs from a friend. It's a 30 or so second juggernaut from the Sum Of the Brutality Of Men album released in 1991 that combines short, fast and loud hardcore punk with warped oscillations and high end filth. While not the first to combine noise with aggressive music like hardcore and metal, they were the first band I had ever heard do this.
I've always enjoyed noisy stuff. In addition to more straight-forward noise, anything from noise rock bands like Jesus Lizard and Butthole Surfers, to blown out grind bands like Fear Of God and Agoraphobic Nosebleed and the noisier Discordance Axis, and even some experimental jazz like John Zorn, I sought it all out. For all things not Man Is The Bastard (who as you may have guessed by now, could do no wrong), noise seemed more like a symptom of the music than something akin to a "meeting of the minds" for me, so I pressed on. I discovered the Boredoms and Ruins, two experimental bands from Japan who skewed a variety of moods with highly unorthodox song structures and featured a barrage of anti-riffs, and insane vocals, with the former incorporating pretty bizarre synthesizer parts. I saw a few bands like Asschapel incorporate a Moog to create punishing frequencies of noise walls in front of stoner metal/hardcore riffs. And of course there's Atomsmasher that defies categories. Then I went back to check out some of the more freak modern composer stuff of the early 1900's, some musique concrete, and dabbled a little in No-Wave. But really more than anything, I wanted to know if any other bands would make "Tank-Killer" type stuff.
But maybe it was just an aberration in the underground.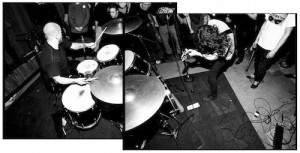 Punk's influence on noise is a different story, and one certainly worth telling. But my focus is on the seemingly new found interest from punk and hardcore artists to use noise more explicitly in their music. Iron Lung was the first band that I saw that had a definite appreciation for the purpose of noise. Started in 1998, Iron Lung's early performances blew me away…"powerviolence" in the vein of Crossed Out coupled with noise interludes that were sometimes used as accompaniment- and these moments of noise accompanying hardcore, hand in hand, were pretty fucking special for me. Even recently, I was pretty stoked to see an accompanying noise/industrial companion record to White Glove Test in the spirit of Neurosis' Times Of Grace and Tribe Of Neurot's Grace (one of the only other instances of noise-drone-industrial/non-noise parallelism I can recall…play the discs separate, or cue them up simultaneously for a totally different experience…pretty brilliant).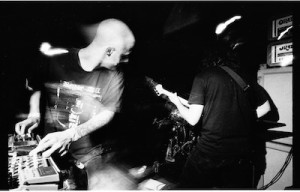 I guess this all begs the question regarding what the "purpose" of noise is for outsiders. Maybe some brutality, maybe to help create atmosphere, maybe to be weird…the reasons are as infinite as the gear used to create it. I do know that when an artist chooses to use noise, that artist is often tapping into an instinctive urge to find new musical worlds to explore, or revisit old ones with different frame of mind.
For the latter, I've seen this most from hardcore fans, particularly younger ones. These kids are largely unaware of power electronics, death industrial, dark ambient, etc. (and arguably better of for it), but may have been exposed to noise from a band like Neurosis, Isis, or Man Is The Bastard, or perhaps while digging through the controversy of artists like Whitehouse.
Full Of Hell is a grinding hardcore band which sometimes features lead singer Dylan Walker (or outside personnel) unleashing a briefcase of electronics. They've seen some success in hardcore circles and have been able to pique the interest of punks to harsh noise, even going so far as to complete a pretty cool collaboration with Merzbow. Similarly there are "powerviolence" bands that have followed in the footsteps of Iron Lung, such as Water Torture and No Faith, by trying their hand at inscribing violent signals into their songwriting. While these bands are doing some cool shit, their use of noise has mostly been underwhelming for me because the noise seems to be more of a novelty. When used outside of interludes and segue ways between songs, noise in these cases seems often used sort of randomly and recklessly to create chaotic atmosphere and lacks articulation…its exact purpose beyond novelty is hard to perceive, generally, but ultimately, these bands' focus is not to create noise/hardcore chimaeras.
Then there's Column Of Heaven. I discovered this band a few years ago. I didn't particularly care one way or another for some of the members' previous band, The Endless Blockade, however, I did notice that they dropped in noise intros from time to time. Though seriously riff-oriented, Column Of Heaven is one of the few bands that is cutting noise and aggressive music as equals. The band is purposeful with their choices for deviant sounds, using them less like a veil, and more like a scalpel to carve out already well written hardcore/metal punk songs. They continue to throw delightful curve balls at their fans in the form of experimental noise assemblages such as the hard to find Failures cassette, which bears little resemblance to Column Of Heaven albums like Mission From God. As if this wasn't enough, you can also check out the side project Wolves Of Heaven, whose split with Nyodene D is some of the most brilliant outsider power electronics/death industrial to come out last year.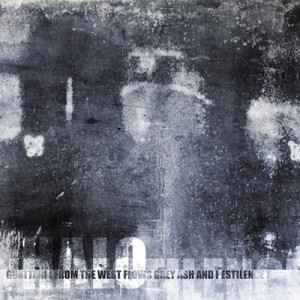 Maybe what I seek lies across the ocean. Consider Finland's Ride For Revenge. They have been crafting soul soiling, lo-fi, sludged out black metal while shingling the shack with Satanic noise methodologies since the early 2000's. Some of their earlier recordings in particular exhibit extremely peculiar and fascinating trials (of which I suspect have been inspiration for Column Of Heaven's latest outings). The band's mastermind, Harald Mentor is no stranger to noise, having worked on a handful of harsh noise and ambient projects. Farther away, Japan has always been an epicenter of experimental and noisy couplings…in the tradition of Boredoms and the like, [Endon] were suggested to me and they are largely under the radar in the western world. They seem very merciless in their use of industrial backdrops and to carve out head exploding experimental grind. I've enjoyed the little I can find of them like this track. And lastly, Australian sludge-metal lords Halo (whose members have gone on to form Israal), who have gone criminally under the radar for years, channel demolishingly crawl-tempo riffs, fusing them with limbs mangling percussion with healthy dose of harsh noise assemblages. Body Of Light and Guattari can be had for less than 5 dollars, total, in many used bins or discogs, and will stomp your fucking skull in.
As expected, other genres have also tread the noisier path. Octavius/4AM, Dalek, Death Grips, Babelfishh, and Clipping have harshed up hip hop. Emptyset's 2013 album Recur is a minimal techno album utilizing searing white noise and industrial scrapes. Amps For Christ, an offshoot of Man Is The Bastard is noise informed folk. Aluk Todolo combined kraut rock, black metal elements, and harsh tonal textures on Descension. There are dozens of more ambient, industrial and noisy black metal projects like Sutekh Hexen. Cyber-grindcore was a thing for a minute. Improv/performance art noise jam-oriented bands exist (for better or for worse) for the more unassuming. Oh, and who hasn't heard of Dom Fernow and his endless side-projects? And so on, and so on…
To bring this full circle, I'll mention that Bastard Noise has reemerged in the last few years re-exploring the intersections of harsh noise and sludgy hardcore with a totally new line-up (resembling later era Man Is The Bastard I might add)…but like one's first taste of the devil's harvest, I'm probably never going to find anything that captures the essence of "Tank Killer"…not from Bastard Noise nor anyone else. And it doesn't really matter in 2015…bands are finding new avenues to explore, new microwaves to give old frozen meals a blast of atomic new life. It's only a matter of time before noise goes from being less of a novelty and more a much-faceted implement – an appliance if you will. I'll be waiting.
-R.B.
Iron Lung and Full Of Hell photos courtesy of Reid Haithcock, used with permission. Opinions of R.B. do not necessarily reflect Reid or Existence Establishment's views or opinions.