Babelfishh – Writhe In The Elements EP C20
12 June 2015
offering
No Comment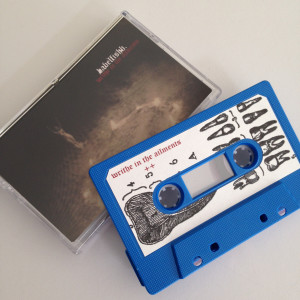 Babelfishh – Writhe In The Elements EP C20
While there is an underlying hip-hop current going on here, Writhe In The Elements traverses a pretty large and almost insurmountable spectrum of sound sources, influences and composition choices. In the twenty minutes that this beast unfurls its wings and bellows foul noxious fumes, Writhe… has the touch of an artist wearing many masks but still retaining a tangible humanity – one of frustration, contempt, self-analysis, and self-ridicule – in spite of being beaten back by the elements, one that hopes to pull through the chaos. It is also a piece of music that is the diametrical opposite to the friendly alt-rap orthodoxy of stuff like Macklemore, that thankfully bears its teeth, fangs, meat cleavers, kitchen sink, and whatever else is lying about instead of taking the dead horse beaten path of "conscious lyricism" or whatever the fuck Bukowski reading kids in college are downloading on iTunes these days.
Most of the hip-hop oriented reviews I've read never touch the "otherness" of this album. This is probably because Babelfishh has historically resonated with weirdo hip-hop backpacker kids looking for weird shit, but weird shit that is still for the most part, a satellite to hip-hop. Indeed, I'm quite curious to hear what said regular constituency of Babelfishh has to say about Side 1, which features the bulk of the more left-field songs like the black-industrial metal tinged "Thousand Year Hum" that sounds like Mysticum fucking around with a loop-station pedal and sharpened cleavers, complete with howls and screams. Or "Pulse Of Regret" which feels like a more bummed out Hunting Party or Test Department, fitted with horns but also an organ, feedback, and some light caterwauling. There are some serious considerations for sample choices and sounds, inlays worked through the carpentry of dense and rich sequences of sample puppetry, conjurations of drum and guitar pieces re-fit in the image of a Babelfishh backing band if one existed. While these tracks rule, they come off somewhat as a showcase of odes to various extreme genres in their ersatz glory and feel a little disconnected between the second side.
Side 2 then is the counterpoint, exposing Babelfishh's prowess as a rapper, working in some painfully hilarious but introspective rhymes over head-nodding, but still not so DJ Shadow amicable creations…many of these beats are skewed so hard left that they deteriorate from simply remixed hardcore punk, metal, country(!), and field recording samples into nicely flayed almost old-school heavy industrial specimens. The staccato breaching rap rants even occasionally skirt the edge of power-electronics delivery (known by Babelfishh as chewing), lo-fi and angrily distorted, a style Babelfishh mastered on the Goats Gloom 7″. At its best, there exists this pretty gnarly civil union between the sensibilities of 3-6 Mafia, Sutcliffe Jugend, Xasthur, and Anticon that is a uniquely ramshackle and quite spellbinding alchemy. "Escape The Sun" is probably my favorite track in this spirit…bone breaking percussion ceaselessly forcing its way into your bony orbits with Babelfishh surfing the wave, screaming for redemption in a dystopia of sun blasted filth, that then walks head first into a nose-busting break beat.
The two cassette sides definitely seem like a split release rather than a contiguous album. While sonically devastating and brutal, Side A is the homage to the extreme genres that inform and influence the core of Babelfishh's sound on Side B. Babelfishh's work like Eyeless Terror and Howl Bender represent a more harmonious balance of songs, and as such are definite mile-markers for truly underground hip-hop. Writhe… on the other hand feels like an artist torn between two states of existence – one treading the hip-hop world, and the other flinging one's self into the murky pit of no return. This inevitably presents conflict for having to choose one path over the other. Even so, Babelfish is certainly an insider-outsider trying to tie these different worlds together in a vulgar display of genius.
This EP represents another crucial step in Babelfishh's continuous mutation. Like much of his work, this deeply feels not like the work of a rapper locked in the studio, but the almost insane self-destructive tendency of a one-person American black metal band such as Xasthur or Vrolok locked in a filthy cave. It's clear Babelfishh also did his best (and succeeded) to massage the motley elements into a fairly well-mixed and appropriately lo-fi recording. With its crazy variety of sounds and songwriting, Writhe… is definitely recommended for the hip-hop and non-hip-hop alike.
| | |
| --- | --- |
| Composition: | |
| Sounds: | |
| Production Quality: | |
| Concept: | |
| Packaging: | |
| Overall Rating: | |