Stone Wired ‎– Umbral Depth Of Shade CD-r
17 June 2015
offering
No Comment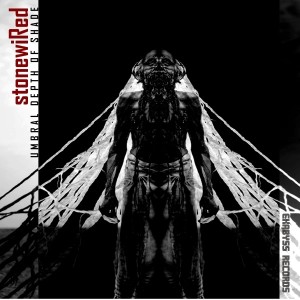 Stone Wired – Umbral Depth Of Shade
I have never heard of Stonewired before and I don't think I would have sought them out. Sadly, many of the same maladroit artistic implementations that plagued the Voidmorf release I reviewed are present here (and I shall not go into details). This would have been a shame as Umbral Depth Of Shade is a bleak and crushing work of death industrial that covers a wide variety of styles.
The minute "Regressed Back To The State Of Primal Being" thumps in your speakers, it should be obvious neither Exabyss nor Stone Wired fuck around with the recording quality on their releases. There is a copious amount of terrifyingly rendered shades of distortion as well as ample filtering and compressing that will beat your eardrums like a veteran Swedish Masseuse. "With The Eyes Of A Blind" throws a deadening synthesizer wave pierced by cutting rhythms of side winding percussion and generous helpings of LFO. It's nice to have $2500 analogue synthesizers, but it's certainly a chore to suss out the right sounds, and thankfully Stone Wired have been diligent in reading the owner's manuals and experimenting. None of the sounds on this release come off particularly as canned or preset.
Stone Wired, like Aghiatrias, also take the time to incorporate some dark ambient methodologies into their sound, including samples, stereo/panning and very contoured dynamics. While some songs do just smash the hotel room and then just move on to the next track, many other tracks have great build ups and build downs. Using a simple bass stroke, some highly modulated and argute ringing and a sample from the father of Chris Martinez speaking about his son's murder , "Desecration Of A Perfect Shadow" achieves transitions and progressions fluidly and is probably one of the most haunting tracks in this style I've heard as of late. The title track "Umbral Depth Of Shade" is also another rigorously planned track that drags dark ambient passages into haunting rhythms of crackling.
Another prominent element in Stone Wired's music is the use of EBM elements. If "With All Their Faults And Sufferings" threw the drums more in front of the mix and pared down the harsh noise pieces, they might have an effective goth/industrial night single on their hands; "Regressed Back To The State Of Primal Being" sounds like a slowed down gabber track. These kinds of songs really help keep Umbral Depth… engaging instead of being weighted down excessively by an unwavering adherence to total death industrial convention.
With all the good sound and songwriting skills, unfortunately there are some small smudges present on this otherwise awesome release. Umbral Depth Of Shade's vocals are a bit of a detraction… in spite of the fact that they are nasally and well delivered, the lyrics are very inarticulate vagaries and filler about cruelty, cataclysm and depravity. This kind of penmanship is only a few mouse clicks higher than rhyming couplet verses about death/darkness and murdering ex-lovers for me. Another smudge is on "Desecration of A Venerated Object". Instrumentally, this is a great track evoking ambient sounds, but the German speech tirade sample (please don't tell me that's Hitler…) is just a little too cliche. Turn this up in your headphones and these minor blights will melt away.
Stone Wired have been around for over a decade and it seems that Umbral Depth… is the final farewell for these veterans. With a considerable back catalog, this is a great bookend.
| | |
| --- | --- |
| Composition: | |
| Sounds: | |
| Production Quality: | |
| Concept: | |
| Packaging: | |
| Overall Rating: | |