Koufar – Lebanon For Lebanese LP
2 July 2015
offering
No Comment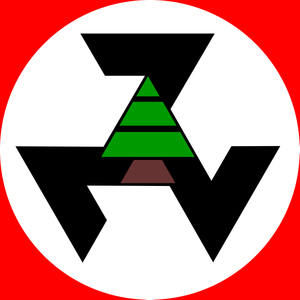 Koufar – Lebanon For Lebanese
Koufar has kind of taken a back-seat to A. Chami's other projects, lately. It is probably the most notorious of his monickers, spurring confusion and apprehension amongst outsiders because of the project's nationalistic overtones. It's often that his politics have become his calling card to some who have little understanding of Koufar from a musical standpoint. Moreso than Purity Of The Cedars, Lebanon For Lebanese is an unpolished shrapnel of destruction, flowing from sonic cannonballs of rhythmic scrapes and detonated with Chami's signature vocal style.
On this album, the major striking difference from Purity is that these tracks are unreferenced by samples making them free-standing bulwarks. The tracks reference the post-colonial rage that Koufar has exhibited, but these are lengthier tracks that feel more meditatively odious than Purity's shoot first salvos. "Kiss The Hand You Cannot Bite And Implore God To Break It" clambers on using similar arrangements and delay pedal swept vocal and steadily build after an ominously meager introduction. Flanked by the short intro "Checkpoint In Achrafieh", "Flares Over The Bay Of Jounieh" is a strafing development hitting the 12 minute mark, and migrates from sweltering noise rhythms to disintegrating vocal manipulation spasms. The vocals are my favorite aspect to Koufar recordings because they are yelled with such passion and fervor in a style that reminds me of Man Is The Bastard's "Bulldozers Burying The Innocent Alive", that they can only be received as frank and genuine manifestations derived from a very pissed-off place. The tracks are very interestingly mixed with clumpy (headphones recommended) low-end driving enmeshed with high-end aneurismic frequencies making them uncomfortable to listen to. The tracks are challenging as both sonic documents of post-colonial excogitation on loss and identity and an assembly of powerful and cold-blooded oeuvres.
Whereas Purity… was a more focused and conceptual burst of energy with lots of context, on my end there's a bit of a lingering feeling to hear and experience more on Lebanon… because it's an album that Chami has spent nearly four years working on, and one that feels deceptively short because of the small number of songs. Given there are no lyrics written on the insert and that the vocals are hard to decipher, the tracks are less obvious and conceal a more important facet to this project- one I would suspect that is Chami's continual self-examination that is as painful as the sounds channel -that is requisite in order to keep the project moving forward, meaningfully.
| | |
| --- | --- |
| Composition: | |
| Sounds: | |
| Production Quality: | |
| Concept: | |
| Packaging: | |
| Overall Rating: | |