Pleasure Strain – Illness Attraction C32
24 June 2015
xdementia
No Comment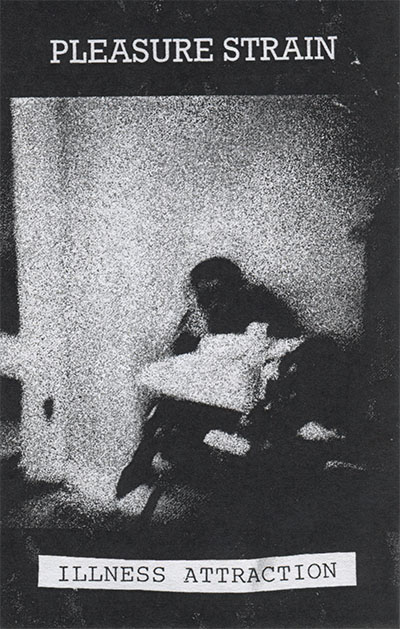 Pleasure Strain – Illness Attraction C32
I've really been digging this quick release lately and I say quick because billing this as a C32 is a little decieving. It has the same material on both sides so it's closer to a C16. Either way I have no previous experience with the project so I'm going at this review based on this release alone. Artwork is typical photocopied high contrast black and white which fits the rough sound very well.
Pleasure Strain offers up a sick combo of power electronics and rhythmic noise which culminate in a variety of different results on Illness Attraction. It either has more a death industrial vibe like in the slow loops of Organ Burner or a more – almost dancey – atmosphere with a touch of scumminess in Iron Trap. Things also get into a more almost European power electronics mode with Broken Ankles much reminding me of the style of early Ex.Order. The production here is very good with warm tones and saturated distortion drenching everything yet not so much as to lose the texture of the sounds. One noticeable thing though is a lack of vocals so don't expect anything like that here.
I'm not going to mince words on this one; this release is short but damn good. I thoroughly enjoy the aesthetic from top to bottom on this release and the sounds feature excellent compositional structure, mood, and production. Great work.
| | |
| --- | --- |
| Composition: | |
| Sounds: | |
| Production Quality: | |
| Concept: | |
| Packaging: | |
| Overall Rating: | |