Will Over Matter – Visio ja toteutus C45
17 September 2015
offering
No Comment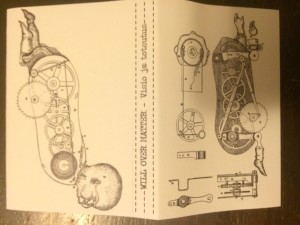 Will Over Matter – Visio ja toteutus CS
Will Over Matter has been briefly mentioned around here for the fact that the man behind the project plays in the raw and grotesque black metal band Ride For Revenge as well as a number of other projects. Visio ja totetus is an album of discarded innards of patterned minimalism, with a focus on microscopic nuances and shifts.
Repetition is no problem, but there is a fine line between looping on and on til the needle breaks and building out something incrementally. Will Over Matter is pretty good at keeping the interest level high on many of his projects, maintaining an intellectually minimal approach that purposes the right amount of sound for the right amount of tacit and taciturn.
No theatrics or protruding spiky frequencies here, but Visio ja totetus will really test the limits of nail-biting and neurotic face twitching with its incessant insistence on minutiae. Take a look at the first side which starts off with a small but beastly minimal drag of rippling delays on "Varoitus" and ends on a needle groove static-bonfire and log chopped rhythms on "Visio" (the latter of which eats up the majority of the first side). And the whole time, it is likely you may wonder if your record player is skipping. Listening closer, you hear that the static is random with each waveform finger-printing each loop, mechanically, but organically. Will Over Matter picked some unsophisticated materials to work with and I get the impression the output was very loud.
The tape continues with these shovel-dragging grainy assaults ad infinitum, supplying glorious restatements of vision and purpose and garnishing them with occasional shards of additional noise, field recordings, and other tiny shifts.
Phenomenal Highways, Will Over Matter's release on the White Denim label was more synthesizer-oriented minimal techno sounding, while Visio ja totetus sounds like the other half with the slowed down beats. I like both pieces for their thoughtful and prolonged experimentation, but the narcotizing effect that Visio ja totetus produces with rhythms is way more up my alley.
Does it get boring? This is a long tape…maybe a C45's worth, so perhaps, yeah, maybe a little bit…but the sounds alone are bound to satisfy some while the ingemination may send others to the sanitarium.
| | |
| --- | --- |
| Composition: | |
| Sounds: | |
| Production Quality: | |
| Concept: | |
| Packaging: | |
| Overall Rating: | |