Nycterent – S/T CS
25 September 2015
offering
No Comment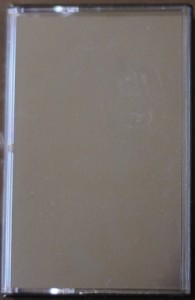 Nycterent – S/T CS
Last Mercy Recordings
This self-titled tape represents a new name and a new perspective, but those familiar with Jon's previous project, Erroraeon, will find solace in the fact that Nycterent is every bit as mangled and painful, perhaps even more so.
No track names are given, and in this case it works well…you have no way of anticipating the next movement because the tracks blend together seamlessly (or maybe it's one track with several movements…). The layers of writhing tones upon one another is a strength of this tape as it becomes a foundation for the viscera throw into the fray. Jon's vocals are a part of this low end disgorgement, located somewhere in the between the misasmal swells of synthesizer slag and hanging walls of noise. There's definitely some Kranivm and IRM flavor in both the recording style and in the sinister sequencing. It goes without saying that this is a very dark and brooding construction, but not one that is helplessly mired in atonal dredge and muck…in a nice turn of events some conclusive melodies creep in towards the end of the tape.
For a fairly lo-fi tape, the transitions between tracks are helpful in giving this tape character, bypassing the easy fade out/in routine through exchanging and replacing various elements with impeccable pacing. I'd add though, that I'd certainly like to see a future release with higher resolution to pick out all of the atmospheric pieces.
Limited to 25 copies, you probably won't see this cassette in this form…fear not, for it will be released in the near future as a split cassette with another Portland, Maine artist, Scrotal Tear. Silver shell, a sticker, and unyielding simple hand-numbered black j-card. Very effective.
I have to say that it's a little bit difficult to review this cassette knowing that a huge part of Jon's performance contains a visual element…one that is abrasive and not for the faint of heart or sufferer of epilepsy. Having missed my opportunity to see him at a largely black metal fest in the woods of Vermont, I'm looking forward to his next live set even more. I'll leave you with this teaser: Imprisoned By Reflection.
| | |
| --- | --- |
| Composition: | |
| Sounds: | |
| Production Quality: | |
| Concept: | |
| Packaging: | |
| Overall Rating: | |