Concrete Mascara – History Of Ruin CS
25 February 2016
offering
No Comment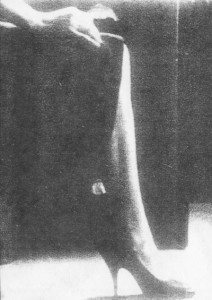 Concrete Mascara – History Of Ruin CS
This tape is a thick caloric slab of cranky power electronics. Very hard to consume, but worth your time.
Concrete Mascara has made the work of reviewing this tape difficult by offering a harrowing 45 minutes of nail biting power electronics. There is a certain vastness to this tape that is a little overwhelming. I haven't heard anything else by this guy, but this release seems like a pretty good cross-section of sounds that offers nice variations in sounds but also creates expansive demonstrations in industrial bilge. "Under Black Waves" and "Funeral Shroud" are vocal frenzied assaults that remind me of Miscreant's Birthwrite tape in that the stained sounds draw out rich and spasming vocals in the lo-fidelity setting. Tracks like "Aftertaste of Shame" are fuming dirges of electronics lumps. "Juggernaut of Truth" is an insane asylum creeping death industrial number. Lots of stuff going on here.
The varied palette really makes this tape hard to quantify especially since some tracks feel like unending assaults that are difficult to really digest and write about. I can say for certain that all of the different types of songs are effective within the framework of Concrete Mascara's tactful hammering of certain frequencies out of the soaking noise. When the tracks pull back a little and are less lengthy, Concrete Mascara's skill at really letting the grainy sounds leap out in the lo-fi mix becomes most apparent.
| | |
| --- | --- |
| Composition: | |
| Sounds: | |
| Production Quality: | |
| Concept: | |
| Packaging: | |
| Overall Rating: | |