Ättestupa – Vattnet Drog Sig Tillbaka, Stenarna Blev Synliga LP
10 November 2015
offering
No Comment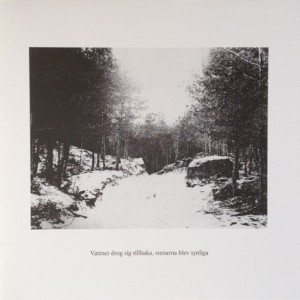 Ättestupa – Vattnet Drog Sig Tillbaka, Stenarna Blev Synliga
I've been following Ättestupa for the last three releases and they've become one of my favorite bands of inveterate instrumentation and songwriting. If you're a fan of this sad, sad music, then Vattnet Drog Sig Tillbaka, Stenarna Blev Synliga (translated: The Waters Receded, The Stones Became Visible) will provide you with similar elements of the thick-air minimalism that defines their sound. On this new album though, there is a new approach of the band of traversing even more minimalistic elements of their recent efforts.
Swedes are sort of predictable. I appreciate that. From death metal to film to Yung Lean, Sweden's penchant for the remarkable volume of sorrow and contemplation is a welcome predictability (like home cooking) that you can always count on. As a new Englander, this new Ättestupa has arrived on time for the impending snow and coldness…the first side has a particularly unkind introduction of Swedish spoken samples and a bellicose wind field recording ready to eat the limbs off anyone stupid enough to open the tattered door. With these choices in mind, it's no surprise that the band frequently gets tagged as being some sort of black metal derivative. The sliding synth is an ice corridor that rounds out the first part of side 1. When the snow cave percussion enters soon after, you cannot help but feel like you are listening to a soundtrack from an Ingmar Bergman film or maybe The Juniper Tree.
Moreso than their other releases, Vattnet Drog Sig Tillbaka, Stenarna Blev Synliga's recording aesthetic is really dialed perfectly into the rickety phonograph needle/dirty tape head swagger, almost self-deprecatingly. The violin fog introduction on the flip side is nauseating and deliberately placed as if one was listening to a slip-shod shellac disc from the 1800's. The metal rattling and undulating synthesizers push the track without fanfare into unsettling quiet verisimilitude. The scrapes and pluming tumult is reminiscent of the organic adumbration of the previously reviewed (and Swedish) Ochu album, and uses the same idea of a division between sound created and sound produced using primitive implements. The analogue glow is wonderful all over, and this is truly a paean for the small victory of warmth in an otherwise grey hue truth.
The ugliness of winter is something I look forward to because I can brave the outside world in small increments and come home to a warm glass of tea or miso while listening to records like this that remind me of what the outside is like, sonically. Moreso than their two previous albums Musik För Tomma Rum and Begraven Mot Norr, there are less "songs" on this album and more wonderful incidental sound collections that show a progression towards a subtle menagerie as opposed to their more melodic efforts. This is a dreary and fantastic album.
| | |
| --- | --- |
| Composition: | |
| Sounds: | |
| Production Quality: | |
| Concept: | |
| Packaging: | |
| Overall Rating: | |