Diaphragmatic – Broken Man C30
17 November 2015
offering
No Comment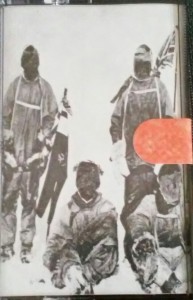 Diaphgramagic – Broken Man C30
Here's a submission by Ohio's Diaphragmatic. Released by Urgent Telepathy Recordings, Broken Man is a work of ripping junk metal scrapes, cuts, and even some tape manipulation. I think this medium is very cool, but 30 minutes is a bit much.
"Firefucker" starts out by banging out wallops of junk rhythm that disintegrate into some grinding swirls, swabs of feedback and clipped to hell rumblings. Similar to chaotic acts like Death Jenk that operate at maximum volume with disregard for the contrived, "Firefucker" is an expurgation, and one that seems to lose its steam apart from the addition of some nicely creeping tape manipulation towards the middle-end. The flip side, "Murder Holes", ferments a bit before the shrapnel of metallic disgorging commences. This time though, notes are hammered out of the metal at the risk of some satisfying orchestration. "Murder Holes" eventually escalates into a shiftless total meltdown as I kind of expected, and then chews the cud for the remainder of the tape. Still, this track makes an otherwise run-of-the-mill rote exercise into something a little bit more daring.
All in all Broken Man should be a nice listen for junk metal fans. The thing about this way of making sounds is that you really need to be able to offer more on releases than just recorded a version of what you do live if you want people to remain interested. 15 minutes for two junk metal oriented tracks is a bit of a drag, especially if you're not diversifying your approach like Sword Heaven. As interesting as "Murder Holes" is initially, Diaphragmatic could have capped it at around 8 minutes, while "Firefucker" blew its wad a little too early…a more modest approach could have been more effective. In addition to the puzzling artwork/concept, the xerox cut up art to laser print reproduction is somewhat tawdry. Maybe Diaphragmatic's drawing a metaphor between his scrap medium and a Broken Man. Regardless of how this shit is packaged, it's always awesome for me to hear scrap metal rawness in any form.
| | |
| --- | --- |
| Composition: | |
| Sounds: | |
| Production Quality: | |
| Concept: | |
| Packaging: | |
| Overall Rating: | |