Analfabetism – Av Hjord Är Du Kommen
25 November 2015
offering
No Comment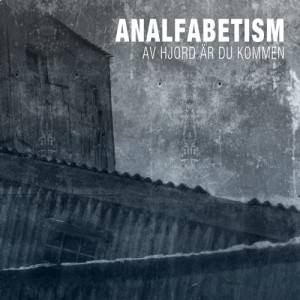 Analfabetism – Av Hjord Är Du Kommen
Here's yet another Swedish entry into the growing database of Existence Establishment reviews. This is one release that makes no claims of outlandish innovation or ground breaking shtick…Av Hjord Är Du Kommen is a solid old school piece of electronics execution that draws heavily from the Cold Meat Industry world and references those artists respectfully and discretely while drawing from personal experience to produce one of the most unique pieces of industrial I've heard in a while.
I like that Malignant Records picks up a lot of somber and calculated artists who feed from the same trough. An offering of one long, heavy gaze at the world is followed by subsequent dissatisfaction and discomfiture. This sort of world view combined with an appreciation for the old school is arguably "orthodox" within the oblique perimeter of industrial, but it's one that I respect and enjoy.
The feeling I get from Av Hjord Är Du Kommen is that it is a project created from the heart of a nostalgic who wants to offer a stark reminder that the world is going up in smoke in a fume vomiting factory. There is another feeling I get from this album, and that is one of hearing a reserved artist hoping to express himself with a purposeful sense of withholding. The highs and lows are matched wonderfully on this album without salient misuse. "Traldom" sent shivers down my spine…steel tones create a sonorous bed that is peppered with churlish tethers of distortion. But it's also a track that sits uncomfortably in its box, ripping seams, never fully exploding, but crumbling forward persistently.
As such, this album drags the world behind it at such a well-executed pace and with such balanced sound and presentation that it will remain on repeat for a few days to come. It is the long highway down a fucked up road with no rest stops and no guides. I surmise that vocals could have been potentially detrimental to this album's equilibrium. As an instrumental release, Av Hjord Är Du Kommen is very effective.
The "cumulative effect" of an album is something that is very difficult to pull off. Yen Pox's Between The Horizon And The Abyss is another such album that forces you to consider the sum of the parts that aggregate down the line. A huge part of this has to do with the artists' consistency in using sounds and being able to micromanage changes within the tracks with respect to how they affect the whole release. These albums are not easy listens. Analfabetism's consistency is arduous because of how absolutely dense it is. I wish there was a little more non-electronic presence like on "Traldom", but on the other hand, maybe I don't. Every inch of Av Hjord Är Du Kommen is saturated using very stripped-down methods. Elements like the modulated rings of vocal loops that coil in the beginning of "Hundar" are probably the extent to which there needs to exist something external to the tumult. "Illdad" utilizes the tried and true reverb stained polemics sample and heavy electronics pairing followed by slightly unexpected EBM-esque throbbing wave. Still, no track is out of place.
Sonically, Av Hjord Är Du Kommen is situated around the hegemony of an outline in the form of synthesizer sequences. This is obligingly administered like the old guard instead of bold lined percussion/percussive noises (which is what I generally gravitate towards) that made late 80's/early 90's industrial acts transition to the club instead of a Turkish prison. With meaningful restraint (as opposed to fear of doing something new), Analfabetism coaxes out the brimming necessities and offers self-discipline, something that is very hard to do. The underscored bleakness that is conveyed here is thus quite powerful.
| | |
| --- | --- |
| Composition: | |
| Sounds: | |
| Production Quality: | |
| Concept: | |
| Packaging: | |
| Overall Rating: | |