Irukandji – The Suicide Jump E.P. CDR
21 May 2010
xdementia
No Comment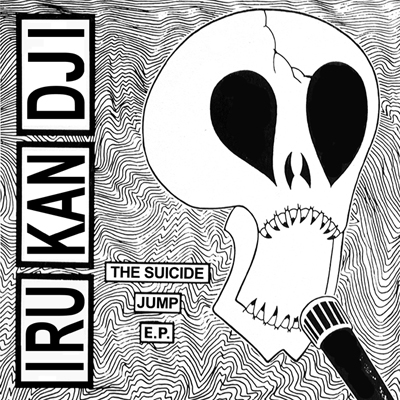 Irukandji – The Suicide Jump E.P. CDR
Irukandji opens this twenty minute behemoth of a track with some glowing synthesized textures. The sounds are somewhat familiar but it's not until the Tangerine Dream-like harmonies begin to form into a melody that this sample becomes quite obvious to me. A perfect tongue-in cheek reference where the home-run break down arrives just in time to be completely blown out by an insanely heavy blast of noise.
Perhaps Irukandji could have fooled the most benign of listeners, but it's because of the apparent non-irony of this release that using the first part of Van Halen's "Jump" as the intro to a 20 minute harsh noise track gets the gold. It is no longer a secret that Irukandji is none other than miscreant and 80's music connoisseur Michael Page, the man behind such infamous projects as Fire in the Head and Sky Burial.
Looking above and beyond the flamboyant intro the The Suicide Jump E.P. Irukandji continues his relentless barrage of harsh noise and uncompromising sound. In the first few minutes of the track the harsh noise textures are joined by a menacing drone, almost bringing the sound into the power electronics realm. Of course a few minutes later I find myself caught up in chugging industrial textures and then leading into wispy Merzbow-like sweeps with very subtle screaming vocals behind in the mix. Finally convulsing synths converge with high-pitched feedback and bring us in the for the kill.
Overall this no-holds-barred harsh noise feels fresh and unpretentious. Combined with the artwork it has a bit of a punk feel to it that can't be ignored. The style here even leans toward wall-noise a bit with different textures thrown on top. The track is well-produced, thought out and the sounds are playful, unpredictable, and interesting. The Suicide Jump E.P. proves that Irukandji, although perhaps a project with little-to-no agenda is evolving quite nicely and I hope Page's work with this project will continue along this path.
| | |
| --- | --- |
| Composition: | |
| Sounds: | |
| Production Quality: | |
| Concept: | |
| Packaging: | |
| Overall Rating: | |