Noveller – Red Rainbows CD
22 May 2010
xdementia
No Comment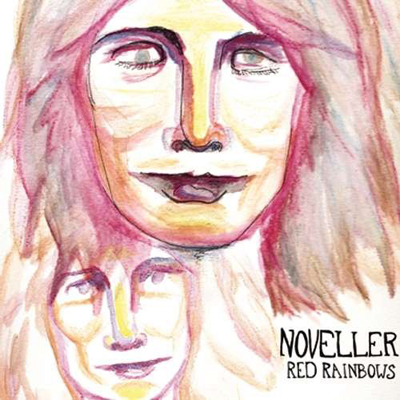 Noveller – Red Rainbows CD
Having the opportunity of seeing Noveller perform at the last No Fun Fest I had some idea of what to expect of Red Rainbows, but it also meant that my expectations were set high. Perhaps I was a bit put-off by the cover featuring a kind of half-assed painting of Jim Morrison, but luckily the disc is all I had hoped for.
Red Rainbows is an ambient drone album but one that is melodic and harmonic with the best of guitar fueled textures, feedback, and even some eloquently styled synthesized layers. I enjoy Noveller's tendency to ebb and flow into noisier passages as she commences the release with "Rainbows" a howling monolithic drone fest. So that by the time "St. Powers" rolls around I am immersed in a peaceful bed of slowly undulating ambient swells. Overtly guitar driven, the textures that fade in and out from time to time are quite impressive. Noveller really has the ability to use the instrument in a provocative manner.
"Tunnels" delves further into the abstract textures that Noveller excels in, and this time she presents a little more of an industrial edge which furthers the variety and scope of Red Rainbows. It's a harrowing journey with darker tones and although there are so many different colorful sounds portrayed I don't once feel like I'm lost within the labyrinthine structure of the composition. Of course there is a light at the end of this tunnel and that is the last track "Bends" where Noveller is joined with label mate Carlos Giffoni. His influence is certainly felt here with the squeezed modular synth element that is markedly different than anything that has come before on Red Rainbows. Bends is probably my least favorite track here as it seems a bit more haphazard and improvised as well as more sparse then the rest of Red Rainbows, so it's not the strongest way to end the album.
Even with a weaker closing track Red Rainbows still leaves a positive impression. It is very well composed outing, with excellent textures and evolution through sounds. Noveller really manages to capture a mood, and manipulate it – never too harshly – but slowly and with great precision. As a featured bonus the disc comes with a 4 minute multimedia clip of a film of which Noveller composed the soundtrack to. The film reflects the many colors of the artwork but the sound is a bit more raw then what appears on Red Rainbows. Recommended for fans of Troum, Emeralds, and Herbst9.
| | |
| --- | --- |
| Composition: | |
| Sounds: | |
| Production Quality: | |
| Concept: | |
| Packaging: | |
| Overall Rating: | |