Reptile Womb – Thee Fyrste Deathe: Serpent Wrything Beneathe Thee Graeve CD
22 January 2016
offering
No Comment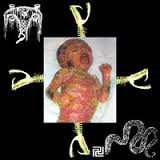 Reptile Womb – Thee Fyrste Deathe: Serpent Wrything Beneathe Thee Graeve CD
The lacerations which Reptile Womb has foisted upon the listener might be more effectively appreciated if one approaches Thee Fyrste Deathe from a power-electronics perspective. The tools used here are primitive and unpolished. Its true bedroom wizardry lies in the composition making for a remarkably ugly but catchy set of songs.
The closest comparison I can think of to Reptile Womb might be Gnaw Their Tongues. The latter opts for grand entrances, inundation of samples, and complex laptop machination to achieve his warped ends.
Reptile Womb by comparison burns off the excess. Through excavating with less, more is created. Very simple drum machine hammering and sparse keyboard synths occupy most of the tracks with depleted uranium doused vocals. Simple, yes. But the drum programming truly is the keystone to maintaining the interest here. "Serpent Mysticism (Reptilian Odor)"'s drums sound like someone conjured the bizarro spirit of 3-6 Mafia producer Juicy-J. Virtually every beat bears this slow and raw hide-flogging tempo.
The ritualism underpinning this recording is evident in the artwork as well as the synths which satisfyingly fill in the gaps left by the drums and vocals. On "Inhuman Hell" you can hear how everything converges in a dismal putrid pile with the bellowing vocals painted on the mess until another cheap synth sweeps in, grainy and fucked up.
While consistency is key here, the Hunting Lodge-esque "Sauvastika Dance" comes out of nowhere to fling doubled up tempos and a fetid signal compressed synth onto howling vocals for a change up. With a few samples sprinkled throughout the tracks (including one from the movie Alien – fuck yeah), the release offers some more creeping dimensions. One might wish for more experimentation, but I think these considerations break up the flow just a little bit without taking away from the overall feel of the album.
Since no one's really messing with this particular style of black metal, Reptile Womb is in a class of his own and blows many modern PE projects away, easily. With a split planned, I'm hoping to hear more of the same unholy cave electronics.
| | |
| --- | --- |
| Composition: | |
| Sounds: | |
| Production Quality: | |
| Concept: | |
| Packaging: | |
| Overall Rating: | |