Final Boss – Enforcer CS
30 March 2016
offering
No Comment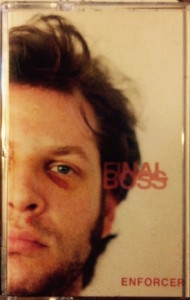 Final Boss – Enforcer CS
I recently played a show in Portland, Maine (courtesy of Last Mercy!) with a mostly non-noise oriented crowd. If you've ever been in this situations, you know that it can feel very isolating being the only asshole without drums or guitars. Thankfully, I was in good company with three nerds from New York City who call themselves Final Boss. As a live performance, Final Boss played 10-15 minute interludes sessions consisting of modulated tones, harsh waves, and stripped down beat structures that hinted at a minimal techno appreciation. Music like this sometimes takes a little while to gain momentum, but Final Boss pulled it off nicely with well executed cooperation as no one was playing over anyone else. Brilliant.
As a tape, it's definitely different. Enforcer offers six tracks of more song oriented tracks, all tacked together lo-fi like some Theo Parrish demos.
The tape starts out with the subtle, ambient, hi hat swabbed irony of "Dance Floor Justice" which ramps up in BPM and form on "Break North" and then skips onto the almost tedious "Enforcer" which coasts on a nicely hemorrhaged synth and cohort of distant sounds. Like Side A's side, Side B's tracks in general are sort of kept at bay by the tools used and, secondarily, the production value. I guess it all sounds like it's in mid-teleportation. Very strange and mysterious, especially for project that I'd consider somewhere between ambient and minimal techno, but also definitely very cool.
Without a doubt, this tape is very much improvised collaboration. The restraint mentioned is noticeable more in terms of sound than composition, though the structures of the songs are loose and minimal creating small space carving. "Como se dice rapscallion" is the album's certified club hit as heard in a house next door, flexing under under an understated duress of minimalism. But Final Boss really shines on "ICU (fine with collapse)". This is probably my favorite track on here because a) there is a creepy skeletal beat that works well with b) minimal modulation and c) changes and mutates. This track reminds me most of what I witnessed live.
I'm definitely looking forward to seeing a full-blown Final Boss set. At the end of your dance-track oriented day, there's something to be said of artists who insist on using hardware to create; even better when it's done sparsely.
| | |
| --- | --- |
| Composition: | |
| Sounds: | |
| Production Quality: | |
| Concept: | |
| Packaging: | |
| Overall Rating: | |