Анатомический Атлас CS Compilation
17 December 2016
offering
No Comment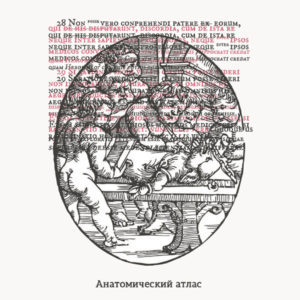 Анатомический Атлас Compilation CS
Looking for one of the best experimental compilations of this year? Анатомический Атлас not only has a great array of artists, but a really compelling and cohesive theme. Great curation and a mandatory acquisition!
Анатомический Атлас means anatomical atlas. Each track covers a certain aspect of medicine with respect to the enlightenment era and the tracks cover HNW, dark ambient, and power electronics. The tracks are sequenced impeccably in such a way that there are two distinct build-ups. The art for this tape is really exceptional…a very minimal color scheme paired with an image of a pig being flayed (ostensibly for science) compliments this release really well.
The opener from Invisible Slavery immediately sets the tone with a rumbling bass line and whipcracked drums. The flow of the tracks from this point continues to the subdued and cavernous "Atra Bilis" by Carved Image of Emptiness into Gnawed's track "Mind Cage" which is the most explicitly power electronics track. Finally, RAjFAjH throws down a blast of harsh noise that closes down the first side of this tape nicely. Perfect for getting your first trepanation.
This part of the compilation is a second build up with Воронмрак wringing out a really sweet dark ambient melody that tumbles right into "De Humani Corporis Fabrica" and wanders back into harsh territory. "De Humani Corporis Fabrica" features some really unsettling foreign dialogue samples sequenced over menacing percussion and heavy tones and is a good reminder of some of the hallmarks of Eastern European industrial/noise that I really dig. Zinc Room's "Grave Abyss" has to be my favorite track (but not by a huge margin from the other tracks) with a perfect blend of dark ambient and industrial elements. Evil Nox also delivers a nice dark ambient track that almost sounds like it was written as an outtro to "Grave Abyss", complete with more dialogue. The weakest track, "Художник смерти" packs in a heavy overdose of chorale singing, drums, and a deluge of additional instrumentation leading to an out of place and over-saturated song that might feel at home elsewhere. At over six minutes, it drags. Still, not a bad song by a long shot.
UISLABEL's Anatomical Atlas is powerful in its thematic content and breadth of styles without sounding all over the place. Awesome that most of these artists are largely unknown outside of their respective scenes. Go check it out now…you have no excuses, this one is available as a free download from their bandcamp page. Highly recommended!
| | |
| --- | --- |
| Composition: | |
| Sounds: | |
| Production Quality: | |
| Concept: | |
| Packaging: | |
| Overall Rating: | |