Griefer – Egress Report
8 September 2017
offering
No Comment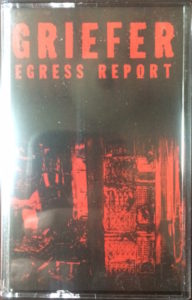 Griefer – Egress Report Cassette
Absurd Exposition bandcamp LINK
I like song structures. Griefer's tape is a power electronics tape is full of actual songs with a theme that is as evidently intelligible as it is challenging.
Of the five songs featured, two contain vocals with the rest featuring impressive instrumental barrages. Griefer chooses to use, sparingly, looped samples along very cranky synths. The vocals on here are the most remarkable thing because they are not only intelligible, but Griefer's cadence is more akin to an older chain lord with deliberate acts of rhythm than some skinny guy screaming through 5 distortion VST plug-in pedals. "Quantum" in particular really goes no holds barred in a furious nod to Con-Dom's Hatred album and (sonically only) Slave State atop tin cookie box dropped from a high rise building type percussion. Rapid fire beats, when they do kick in, really amp things up as needed. It's something I don't hear often well-employed.
The strange crypto-economics/strategic analysis/cyber espionage concepts here are up my alley. I think it's a very unique approach and certainly a chilling reminder that your porn habits and bank account numbers are not safe. The mix of different kinds of sounds offers a wide berth for Griefer to balance vocals and instrumental parts. I would have liked to hear more angry vocals because I think it conveys a sense of urgency that so few PE artists are unwilling to put forth with such a creative, non-shock value theme.
Looking forward to hearing more of this entity…Egress Report is probably one of my favorite PE releases in a while. Again, the song structure of this album make it memorable, filler burned off the motherboard for the most part. Absurd Exposition, based out of Montreal is the credited party for the release of this c30. Perhaps you can find it state-side. Get your head redboxed with this ASAP.
| | |
| --- | --- |
| Composition: | |
| Sounds: | |
| Production Quality: | |
| Concept: | |
| Packaging: | |
| Overall Rating: | |