Jim Haynes – Electrical Injuries LP
7 January 2018
offering
No Comment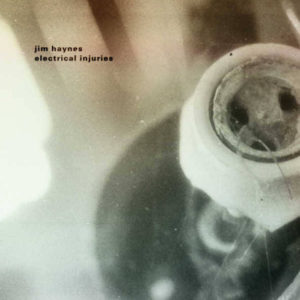 Jim Haynes – Electrical Injuries LP
Aussen Traum records
Jim Haynes was unknown to me until I saw him live. A master at configuring hardware into precise and neurotic movements, Electrical Injuries is a saturated and cold ache of modular sounds and rusted samples.
The sounds on this album are subtle yet forceful prevarication that belie the amount of hard work Jim puts into composing his arrangements. The way these tapestries together might imply the kind of corroding VST manic fitting together normally done on a laptop. A laptop may have very well been used to sequence some of these elements as the modular machine is an unpredictable consort, but these sounds as well as some interesting sample loops are all cultured from Jim's own neurotic hardware tiling. The tracks mesh well with one another and are cultivated with a great effort and form a really vivacious sound design over six tracks.
Electrical Injuries is one of those albums that doesn't really warrant a track by track breakdown as the entirety is best appreciated at full blast in one setting. This is also one of those albums that doesn't really have much info, but the cylindrical sounds are so frigid and dire that adding any further subtext would pry apart the sanctity of this industrial delight. That being said, "Operator" is probably my favorite representation of Jim's ability to ply rusty sounds with just the right amount of tempo and repetition.
However you pick at it, Electrical Injuries is a work of earnestness and genuine sculpting by someone who has respect for the darker space of industrial without making a fancy show of it.
| | |
| --- | --- |
| Composition: | |
| Sounds: | |
| Production Quality: | |
| Concept: | |
| Packaging: | |
| Overall Rating: | |