Аргандаб (compilation) – V/A
13 March 2018
offering
No Comment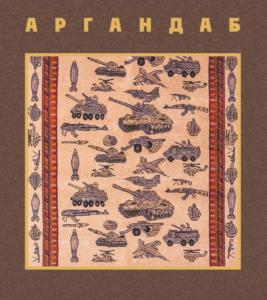 Аргандаб CS
UIS records Link
UIS drops another titillating compilation in less than a year. While their previous compilation covered the higher quality end of death-industrial and harsher landscapes, this one inscribes a bigger sense of mystery and sometimes downright befuddling angle to an interesting them.
To start, I think a Russian label tackling the theme of Afghanistan makes a certain kind of sense even though Cold-War era incursions are over three decades old. I don't know how much the Mujahadin play into the consciousness of the average Russian, but this compilation seems to insinuate that the link is unflinching. Аргандаб scrapes the most obvious visual artistic choice to pique the interest of outsiders – the War Rug whose origins were founded upon the 1979 invasion.
In this sense, the compilation seems like a different kind of invasion. I do not see a single Afghan artist on here, but perhaps participants come from Afghan ancestries. Either way, the topics tackled here seem mostly like outsider perspectives peering into a somewhat familiar topic (given what the media has shelled out about recent times about the ongoing conflict) but gazing at the country and culture with, in my opinion, a very skewed cultural lens.
Moving on, the music here is certainly memorable. There are some amazing tracks that cover the tried and true harsh landscapes, but this compilation also draws in some interesting leftfield artistry, but introduces a few downright puzzling elements. I'd like to focus on the weirder shit. For example Тбилиси-89's "Black Raining Chai of Death (Afghan Slayer 88)" (what the fuck, seriously?) throws "Reign In Blood" at some Middle-Eastern chants to create a very disorienting mess. For a more streamlined track, Ajuleg&Irm's mash-up style track fits Middle-Eastern chants and heavy Neurosis vibes. We also have "3234", a somewhat laughable war-simulation computer game song from project Hypoxia with driving beats and hot exotic female vocals. And just to round this list off with another weird combination track, Shri Badat offers some Urdu language political commentary samples followed by some downright funky drums fit to a traditional harmonium song for amusing effect. This portion of the compilation is a mixed bag of odd delights. Someone's been definitely knifing around in an opium den. Listen at your own peril.
In the spirit of "east meets west", Svart1, Haraam, and Mata deliver some of best tracks of industrial/ethno-sounds pillaging. I really appreciate subtlety with this kind of content and these tracks really lock in on a few sounds and opt for a more minimal perspective. Indeed, it is where the glut of obtuse multi-language song titles and sonic overuse where this compilation falls short of the previous Анатомический атлас compilation's cohesiveness. Still, this is definitely one for your ears for the scope and variety of tracks.
| | |
| --- | --- |
| Composition: | |
| Sounds: | |
| Production Quality: | |
| Concept: | |
| Packaging: | |
| Overall Rating: | |