Atrox Pestis – Hewn By the Hands of the Damned CD
25 March 2018
offering
No Comment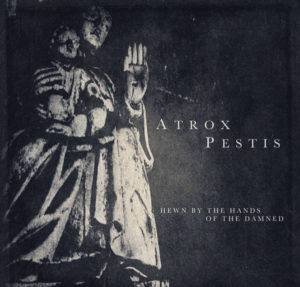 Atrox Pestis – Hewn By the Hands of the Damned CD
Chryptus records
Waste management is the topic for Atrox Pestis' most recent ambient project. It attempts to capture the murky haze of the place where our shit goes.
Groups like Desiderri Marginis and Raison d'Etre have been successful by obscuring direction and even melodies, leaving them lurking in drawing out their respective elements with just the right amount of creep. Contemporaries like Husere Grav also accomplish this effectively by layering deceivingly simple ideas into warping currents. I'm not picking alot of this kind of mystery up from Hewn….
By no means a bad release, Hewn… asks the listener to absorb 4 lengthy tracks of drudging and fairly un-evocative dark ambient. The thing that makes dark ambient successful to me is some sort of perceivable and buried abandon. Atrox Pestis is very good at repeating creeping motifs and hemming them with atmospheric chatter. But at almost 20 minutes "With Seven Tongues, He Spoke" lacks the kind of necessary subdued tumult that the aforementioned projects are effective at implying, even with a really shimmery vocal addition towards the end. It feels a little too scripted. "Choking on the Waters of the Firmament" has some great elements as well, but jostles around a somewhat inane intro before finally breaking into the warm chords of finality at around the 6:00 mark. I believe the ideas here would have made a much better EP.
There is also an asynchronicity of the song titles and the content that could have been a lot more effective without such direction. I feel pushed along to an idea without a prominent theme. I know that's probably going to garner a few eye-rolls given the genre, but honestly, I want to know about the sewer in prosaic and relatable terms and not the misdirecting implication of foisted imagery. This kind of pronouncement is really the anathema to so many dark ambient projects for me. I think a lot about Desiderri Marginis' "Ephemeral", which leaves a wide enough margin to speculate (musically) but manages ambience without crushing itself under the weight of its own conceptual preeminence.
Hewn… will most likely appeal to folks who have more patience with dark ambient. It is certainly well-rendered and sodden with rich sounds.
| | |
| --- | --- |
| Composition: | |
| Sounds: | |
| Production Quality: | |
| Concept: | |
| Packaging: | |
| Overall Rating: | |