Janzeits/Altered Form 7″
21 December 2018
offering
No Comment
Janzeits/Altered Form 7″
Anthems Of The Undesirable Bandcamp Link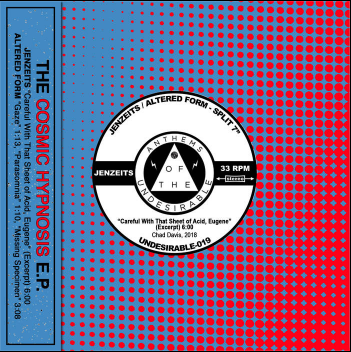 Janzeits and Altered Form both hail from the US but conjure a nostalgia for German ambient and modular artists of the 80's that hits the hammer on der Kopf.
Janzeits' name might be recognizable if you've dug into the deep discography of Chad Davis whose work includes playing for Hour of 13 and Subklinik. Fresh from his recent full length called Cosmic Orbits, here he takes a chaotic and spacious axe to the modular palette of jagged triangle waves and precise envelope filtering to create a perfect soundtrack to your favorite hallucinogen documentary. There is a lot of subtlety to the textures in this track and it plays off itself nicely with minute modulation shifts and frequency trickling. Altered Form plays it more structurally and takes off the LSD edge of the A-side with two short motifs and a longer piece to chew to. The sound here is classic sci-fi and proceeds with a more gesticulating presence instead of one that hinges on a driving beat (like much of the latest John Carpenter worship as of late).

This is a nice single to drop before the end of the year and highly recommended if you're into long creepy drives into alternate dimensions as well as splatter vinyl and an obi.