Zerfallt – Decomposing Towers C31
7 June 2010
xdementia
No Comment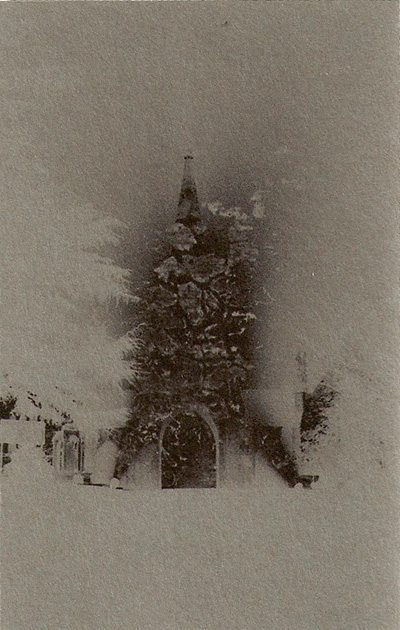 Zerfallt – Decomposing Towers C31
Self Released
I believe Decomposing Towers is the debut release of Boston's excellent industrial ambient noise project Zerfallt. Previously reviewed was Zerfallt's "To Know the Love of Young Witches" which was actually released after this. Going back one can see the evolution in Zerfallt's sound because where Witches was heavy, clear, concise, and sometimes even had a strange pall of calm, Towers is gritty, filthy, repetitive, and dissonant.
Side A contains the title track "Decomposing Towers" which is a barrage of heavily distorted sounds. Somewhat reminding me in style to Hum of the Druid the bed is thick, churning, like what I would imagine the actual sound of decomposition sped up 10 times. Broken harmonies form and peel away at the edges while heavy motorized synth drones continue to bury all in their path. The track is quite consistent throughout with some added higher mid-range synth lines added to the thick mess. The actual sound is thick, oppressive and technically well produced while also being aesthetically pleasing to only those who can appreciate aural grit and grime.
"Silent Fortress" slithers in side B. Beginning with a creepy horror-film like melody, slow pulsing drones nibble at your exposed underbelly. Slowly the distortion fades in until the entire fortress is resonating with the wails of one thousand machines screaming in agony. Feedback, synthesizers, distortion, but all very focused and well-thought out here. The compositions are great with just enough restraint showed.
I really enjoy this work, perhaps not quite as much as Witches, but it's so different it really acts as a compliment to Zerfallt's very small discography. It's a different side of Zerfallt but fits in perfectly with his evolving aesthetic. If you are at all a fan of "black noise", or industrial ambient this tape is key.
| | |
| --- | --- |
| Composition: | |
| Sounds: | |
| Production Quality: | |
| Concept: | |
| Packaging: | |
| Overall Rating: | |