Zerfallt – To Know The Love of Young Witches C46
5 April 2010
xdementia
No Comment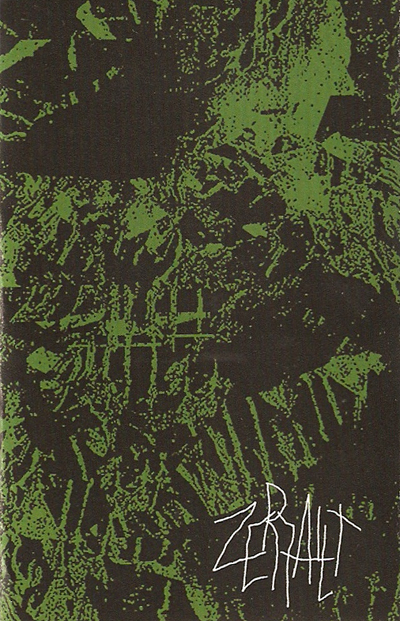 Zerfallt – To Know The Love of Young Witches C46
Zerfallt is a project I am well aquainted with having gone on the road with Mr. Tindell last year. I feel my bias might be worth mentioning, although I truly don't think my friendship with Lee affects this review. To Know the Love of Young Witches features 4 tracks, two on each side of this 46 minute cassette tape. The design is quite well done using black and green tones with shifty text and featuring a J card which is printed on cardboard stock with graphics on both sides for a professional feel.
"I" the opener sets the tone of the release with melodic synth tones set on top of a heavy, low drone. The sounds have a very warm, analog feel to them and immediately I notice that the tape sounds great and the production here is really top-notch. The melodies weave in and out like a stalking snake, a malevolent creature. The sound here reminds me much of Neuntoter Der Plage or perhaps a much creepier flavored Emeralds.
"II" really brings things up a notch. Being quite a bit noisier than the opening track the opening textures remind me of tall, thin steel beams swinging around in a huge warehouse, rubbing against eachother. But this is not sample based, it's a synth making these sounds. About half-way through the track the industrial-noise level is upped and a blast of heavier synth noise booms in. The sounds are just fantastic, like the roar of a huge solar horn of some sort. Strangely enough the track dies down to another more subdued creepy melody similar to the first track but bringing to mind a late 70s/early 80s horror flick. It adds a stylistic touch to Witches which shows the narrow intent of Tindell and further helps to define his sound.
"III" feels a bit longer with it's alternating pulses of synth fuzz. About 2 minutes into the piece some heavy bass tones are introduced adding to the cacophony. By the end a blackened reverse spoken sample, slowed down, and monotonous it must be some kind of esoteric satanic chant to prove that we are deep down into the black muck at this point. Will there be any redemption? "IIII" proves there can be a peaceful end for the wicked, although it still is rather tragic. Once again meandering into the dark cinematic territory Zerfallt presents this bleak, floating ambient piece which I could almost imagine being on the roster of Aphex Twin's "Selected Ambient Works II" but in this context the track holds an entirely different meaning. The most accurate description I could think of for the closing track of Witches is; beautiful.
To Know the Love of Young Witches is a fucking sick release on all fronts. The production, sounds, composition and vision here is all top notch. The tape looks and sounds professional but also filthy at the same time. It makes me feel like the love of young witches is not something for the meek.
| | |
| --- | --- |
| Composition: | |
| Sounds: | |
| Production Quality: | |
| Concept: | |
| Packaging: | |
| Overall Rating: | |